GOLF SUPPLEMENT - FORUM PARTICIPANTS

BURSA 08.03.2011

A. A. (Translated by Cosmin Ghidoveanu)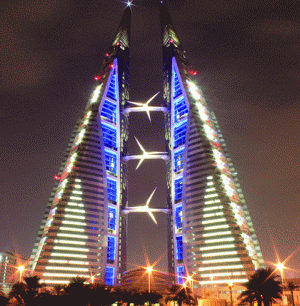 The economy of Bahrain is one of the most diversified of those in the Persian Gulf, hosting several multinationals, thanks to the well developed communication facilities and transport system. Bahrain was the first country of the Gulf that implemented a free-trade agreement with the United States in August 2006. Nevertheless, the economy of Bahrain continues to rely heavily on oil, a sector which accounts for over 60% of the revenues from exports, 70% of the budget revenues and 11% of the GDP. Other important economic sectors are the production of aluminum, finance and construction .
Bahrain is competing with Malaysia for the position of the top banking center of the Islamic world.
A long running problem for the authorities of Bahrain has been unemployment, especially among youth. In 2009, the state reduced the sponsorships for expatriate workers, by raising the cost of hiring foreign labor.
The global financial crisis reduced funding for sectors that aren"t related to oil, which led to a slowdown in economic growth. Challenges that the government is facing are the rising public debt, stemming from a subsidy program, the financing of major governmental programs, as well as the restructuring of debts, such as, the rescue of state-owned company "Gulf Air".
* Relations with Romania
Romania exports to Bahrain steel and crude iron products, wood, cardboard and paper products, electrical appliances, miscellaneous household items.
Romania imports glassware, textiles, chemical products, miscellaneous internal decoration items.
Metallurgic products and furniture accounted for the bulk of Romania"s exports.
Bahrain


Capitala : Manama
Moneda: Bahraini dinar (BHD)
Rata inflației/Inflation rate: 2010 (estimare) 3,3%; 2009 (estimare) 2,8%


[ print ]

Aceeasi sectiune (English Section)