BURSA 14.12.2010

O.V.

Raiffeisen Zentralbank Österreich (RZB) has lowered its 12 month target price for the shares of BRD-Groupe Societe Generale (BRD) from 17 lei to 15.4 lei and has maintained the "buy" recommendation for the shares, according to a report by Austrian group RZB.
Yesterday at noon, the shares of BRD were trading at 11.9 lei on the Bucharest Stock Exchange, down 2.46% from the price of 12.2 lei at the Friday"s close. The new target price for shares of BRD is 26.2% higher than the close of Friday"s session.
Due to the fact that the financial forecast of the estimates concerning the profitability of BRD, Raiffeisen analysts have lowered their forecast on the bank"s ROE from 16.5% to 15.75%.
[ print ]

Aceeasi sectiune (English Section)















Sondajul Ziarului BURSA. Acceptați migranții?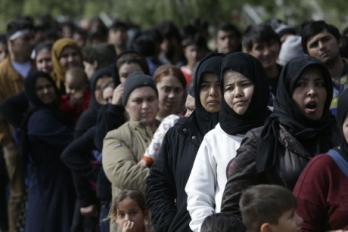 Printre cititorii BURSA a apărut ideea realizării unui sondaj, prin care să aflăm care este atitudinea cetățenilor față de primirea migranților în România.
Vă invităm să răspundeți la această întrebare aici.
Actualitate - vezi toate știrile mai jos.
Piaţa de Capital, 19:24
Raport tranzacționare BVB 05.05.2016
detalii
bursa.ro in other languages
Curs valabil din data de 05 mai 2016
1 Dolar australian...
1 Leva bulgărească...
1 Dolar canadian....
1 Franc elvețian...
1 Coroană cehă...
1 Coroană daneză...
1 Liră egipteană...
1 Euro...
1 Liră sterlină...
100 Forinți maghiari...
100 Yeni japonezi...
1 Leu moldovenesc...
1 Coroană norvegiană...
1 Zlot polonez...
1 Rublă rusească...
1 Coroană suedeză...
1 Liră turcească...
1 Dolar S.U.A...
1 Rand sud-african...
1 Real brazilian...
1 Renminbi chinezesc...
1 Rupie indiană...
100 Woni sud-coreeni...
1 Peso mexican...
1 Dolar neo-zeelandez...
1 Dinar sărbesc...
1 Hryvna ucraineană...
1 Dirham emirate arabe...
1 Kuna croată...
1 Gram aur...
1 DST...
AUD
BGN
CAD
CHF
CZK
DKK
EGP
EUR
GBP
HUF
JPY
MDL
NOK
PLN
RUB
SEK
TRL
USD
ZAR
BRL
CNY
INR
KRW
MXN
NZD
RSD
UAH
AED
HRK
XAU
XDR
2,9428
2,3019
3,0664
4,0908
0,1666
0,6051
0,4433
4,5021
5,7068
1,4378
3,6670
0,1981
0,4829
1,0209
0,0598
0,4857
1,3448
3,9366
0,2618
1,1099
0,6053
0,0592
0,3371
0,2220
2,7092
0,0367
0,1564
1,0718
0,5991
161,5530
5,5797
..Lei
..Lei
..Lei
..Lei
..Lei
..Lei
..Lei
..Lei
..Lei
..Lei
..Lei
..Lei
..Lei
..Lei
..Lei
..Lei
..Lei
..Lei
..Lei
..Lei
..Lei
..Lei
..Lei
..Lei
..Lei
..Lei
..Lei
..Lei
..Lei
..Lei
..Lei
click aici pentru cursurile pieței valutare - istoric