BURSA 05.01.2010

BURSA (Tradus de Cosmin Ghidoveanu)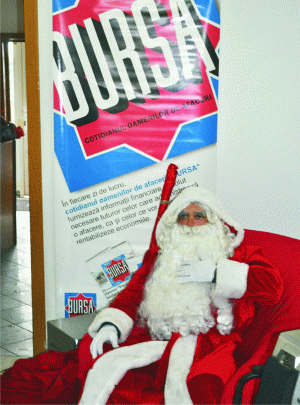 Santa visited "BURSA", bringing with him lots of joy and a goodie bag bigger than ever, in spite of the difficult times.
It is the ninth year straight that Santa Claus comes to our offices, to bring joy and presents to children living in the neighborhood and to those of our staff. Even though it was a difficult year, the celebration outshone those of the previous years.
Around 300 children that live in the vicinity of our offices welcomed Santa with poems and Christmas carols and each of them received sweets, soft drinks, fruit, clothes and toys. Santa also brought gifts for the around 50 children of its employees who were good and learned Christmas carols.
Thanks to our partners, the staff of "BURSA" also distributed presents to a retirement home and a child care center. Our daily offered the ACSIS association and the "Flower of Hope" Center sweets, soft drinks, fruit, dairy products, toys and clothes.
For "BURSA", regardless of how difficult times are and of the effort involved, Christmas means happiness, closeness to loved ones, forgetting the hardships of the year and tranquility.
"BURSA" Media Group would like to extend its gratitude to the companies who joined us and which supported our initiative: Epee Romania, Tymbark Maspex Romania, Dole Romania, Danone, Dobrogea Grup, Neumann Key Account Management, Perla Harghitei, M"Bei Business - Leonidas, Vel Pitar, Noriel Impex, Pro Office -PamPam, Simelco, Chic Pitic Distribuție - Sergent Major, Kreis Design, Tritonic Publishing, Cartex 2000, Libris 2002, Rao Publishing Group, Diverta Retail 3000, Murfatlar, Recaș Wine Cellars, Carl Reh Winery, Oprișor Wine Cellar, Millefiori Romania, Oriflame Cosmetics, Allied Force - Prestige Parfum, Cosmetiques de France Yves Rocher, BDG Group, Zepter Cosmetics, Botanique, Avon Cosmetics, Scarlet Clothing -Tara Fashion, Tordai Hair Cosmetics - Kallos, Natur Pact - Lush, S.T. Dupont, Tipărește Acasă (Print at home: ed. note), Tecsa Business, Real Hypermarket, Lekkerland Convenience, Maco Polo Ve, Romaqua Grup Borsec. Once again, thank you!
[ print ]

Aceeasi sectiune (English Section)















bursa.ro in other languages
Prognoza Meteo
21.08.2018
Prognoza pentru România

Vremea va fi în general frumoasă și călduroasă în cea mai mare parte a țării, iar indicele de confort termic, temperatură-umezeală (ITU), va atinge și depăși ușor pragul critic de 80 de unități, local în Câmpia de Vest și pe suprafețe mici în Câmpia Română. Cerul va fi variabil, însă după-amiaza și seara gradul de instabilitate atmosferică va fi în creștere și se va manifesta prin înnorări accentuate, averse, descărcări electrice și intensificări de scurtă durată ale vântului, local în zona de deal și munte, pe arii restrânse în sud-sud-vest și cu totul izolat în rest. Punctiform se pot înregistra cantități de apă mai însemnate. Temperaturile maxime vor fi cuprinse între 27 și 35 de grade, iar cele minime între 13 și 23 de grade. Dimineața și noaptea, în depresiunile din estul Transilvaniei, vor fi condiții de ceață.
Prognoza pentru București

Vremea va fi în general frumoasă și călduroasă, iar indicele de confort termic, temperatură umezeală (ITU), se va apropia și posibil va atinge pragul critic de 80 de unități. Cerul va fi variabil, cu unele înnorări după-amiaza și seara, când vor crește șansele pentru ploi de scurtă durată și descărcări electrice. Vântul va sufla slab și moderat. Temperatura maximă va fi în jur de 33 de grade, iar cea minimă de 18...20 de grade.
Curs valabil din data de 21 august 2018
1 Dolar australian...
1 Leva bulgărească...
1 Dolar canadian....
1 Franc elvețian...
1 Coroană cehă...
1 Coroană daneză...
1 Liră egipteană...
1 Euro...
1 Liră sterlină...
100 Forinți maghiari...
100 Yeni japonezi...
1 Leu moldovenesc...
1 Coroană norvegiană...
1 Zlot polonez...
1 Rublă rusească...
1 Coroană suedeză...
1 Liră turcească...
1 Dolar S.U.A...
1 Rand sud-african...
1 Real brazilian...
1 Renminbi chinezesc...
1 Rupie indiană...
100 Woni sud-coreeni...
1 Peso mexican...
1 Dolar neo-zeelandez...
1 Dinar sârbesc...
1 Hryvna ucraineană...
1 Dirham emirate arabe...
1 Kuna croată...
1 Bahtul thailandez...
1 Gram aur...
1 DST...
AUD
BGN
CAD
CHF
CZK
DKK
EGP
EUR
GBP
HUF
JPY
MDL
NOK
PLN
RUB
SEK
TRY
USD
ZAR
BRL
CNY
INR
KRW
MXN
NZD
RSD
UAH
AED
HRK
THB
XAU
XDR
2.9655
2.3742
3.0947
4.0809
0.1804
0.6226
0.2250
4.6434
5.1688
1.4366
3.6561
0.2431
0.4782
1.0782
0.0599
0.4419
0.6566
4.0320
0.2801
1.0162
0.5889
0.0577
0.3604
0.2130
2.6875
0.0394
0.1455
1.0977
0.6258
0.1232
154.7773
5.6228
..Lei
..Lei
..Lei
..Lei
..Lei
..Lei
..Lei
..Lei
..Lei
..Lei
..Lei
..Lei
..Lei
..Lei
..Lei
..Lei
..Lei
..Lei
..Lei
..Lei
..Lei
..Lei
..Lei
..Lei
..Lei
..Lei
..Lei
..Lei
..Lei
..Lei
..Lei
click aici pentru cursurile pieței valutare - istoric