BURSA 05.01.2010

BURSA (Tradus de Cosmin Ghidoveanu)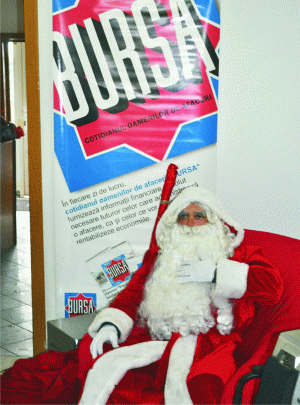 Santa visited "BURSA", bringing with him lots of joy and a goodie bag bigger than ever, in spite of the difficult times.
It is the ninth year straight that Santa Claus comes to our offices, to bring joy and presents to children living in the neighborhood and to those of our staff. Even though it was a difficult year, the celebration outshone those of the previous years.
Around 300 children that live in the vicinity of our offices welcomed Santa with poems and Christmas carols and each of them received sweets, soft drinks, fruit, clothes and toys. Santa also brought gifts for the around 50 children of its employees who were good and learned Christmas carols.
Thanks to our partners, the staff of "BURSA" also distributed presents to a retirement home and a child care center. Our daily offered the ACSIS association and the "Flower of Hope" Center sweets, soft drinks, fruit, dairy products, toys and clothes.
For "BURSA", regardless of how difficult times are and of the effort involved, Christmas means happiness, closeness to loved ones, forgetting the hardships of the year and tranquility.
"BURSA" Media Group would like to extend its gratitude to the companies who joined us and which supported our initiative: Epee Romania, Tymbark Maspex Romania, Dole Romania, Danone, Dobrogea Grup, Neumann Key Account Management, Perla Harghitei, M"Bei Business - Leonidas, Vel Pitar, Noriel Impex, Pro Office -PamPam, Simelco, Chic Pitic Distribuție - Sergent Major, Kreis Design, Tritonic Publishing, Cartex 2000, Libris 2002, Rao Publishing Group, Diverta Retail 3000, Murfatlar, Recaș Wine Cellars, Carl Reh Winery, Oprișor Wine Cellar, Millefiori Romania, Oriflame Cosmetics, Allied Force - Prestige Parfum, Cosmetiques de France Yves Rocher, BDG Group, Zepter Cosmetics, Botanique, Avon Cosmetics, Scarlet Clothing -Tara Fashion, Tordai Hair Cosmetics - Kallos, Natur Pact - Lush, S.T. Dupont, Tipărește Acasă (Print at home: ed. note), Tecsa Business, Real Hypermarket, Lekkerland Convenience, Maco Polo Ve, Romaqua Grup Borsec. Once again, thank you!
[ print ]

Aceeasi sectiune (English Section)