THE ONLY CANDIDATE FOR THE BOARD OF THE EXCHANGE, IN THE GENERAL SHAREHOLDER MEETING OF SEPTEMBER 14TH

BURSA 05.09.2017

ADINA ARDELEANU (translated by Cosmin Ghidoveanu)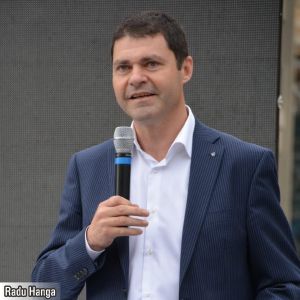 * Mr. Hanga hopes for a constructive approach and aimed at the future, and at the development of the BSE
Radu Hanga, senior advisor for the Board of Directors of Banca Transilvania, is the only candidate proposed to fill out the Board of the Bucharest Stock Exchange, after the death of Cristian Micu, as the shareholders are looking to make a decision on this issue, in the General Shareholder Meeting summoned for September 14th.
According to the documents posted by the BSE, Radu Hanga is supported by Banca Transilvania and by the European Bank for Reconstruction and Development (EBRD).
After, due to having only eight members, the Board was unable to meet to make a decision on extending the term of CEO Ludwik Sobolewski, and the BSE has started an internal selection process for the position of CEO, the entire market is wondering about Radu Hanga's intentions.
He also said that he hopes for a constructive approach, aimed at the future and targeted towards the future.
"The current situation is extremely unpleasant, as the shareholders of the BSE want a functional Board of Directors", said Radu Hanga. "I hope that the situation will return to normal as soon as possible, to see an approach that is constructive and aimed at the future, towards the development of the BSE.
The decision tied to the executive management is that of the entire Board of Directors, just like it's been so far. I hope that this Board will find the best solution and assume it".
In the absence of other candidates, most likely the shareholders of the BSE will vote for Radu Hanga as board member.
Besides, Radu Hanga has been co-opted by the members of the Board of Directors, as the ninth member of the Board, in a meeting at the end July.
For the moment, the Financial Oversight Authority has not validated Hanga, as temporary member, as most likely the Authority is waiting for his validation as permanent Board member in the meeting of the General Shareholder Meeting.
[ print ]

Aceeasi sectiune (English Section)















bursa.ro in other languages
Curs valabil din data de 14 august 2018
1 Dolar australian...
1 Leva bulgărească...
1 Dolar canadian....
1 Franc elvețian...
1 Coroană cehă...
1 Coroană daneză...
1 Liră egipteană...
1 Euro...
1 Liră sterlină...
100 Forinți maghiari...
100 Yeni japonezi...
1 Leu moldovenesc...
1 Coroană norvegiană...
1 Zlot polonez...
1 Rublă rusească...
1 Coroană suedeză...
1 Liră turcească...
1 Dolar S.U.A...
1 Rand sud-african...
1 Real brazilian...
1 Renminbi chinezesc...
1 Rupie indiană...
100 Woni sud-coreeni...
1 Peso mexican...
1 Dolar neo-zeelandez...
1 Dinar sârbesc...
1 Hryvna ucraineană...
1 Dirham emirate arabe...
1 Kuna croată...
1 Bahtul thailandez...
1 Gram aur...
1 DST...
AUD
BGN
CAD
CHF
CZK
DKK
EGP
EUR
GBP
HUF
JPY
MDL
NOK
PLN
RUB
SEK
TRY
USD
ZAR
BRL
CNY
INR
KRW
MXN
NZD
RSD
UAH
AED
HRK
THB
XAU
XDR
2.9670
2.3821
3.1200
4.1212
0.1813
0.6250
0.2280
4.6590
5.2228
1.4409
3.6817
0.2479
0.4889
1.0835
0.0612
0.4493
0.6241
4.0854
0.2905
1.0519
0.5934
0.0585
0.3621
0.2159
2.6952
0.0395
0.1489
1.1122
0.6273
0.1229
156.9480
5.6723
..Lei
..Lei
..Lei
..Lei
..Lei
..Lei
..Lei
..Lei
..Lei
..Lei
..Lei
..Lei
..Lei
..Lei
..Lei
..Lei
..Lei
..Lei
..Lei
..Lei
..Lei
..Lei
..Lei
..Lei
..Lei
..Lei
..Lei
..Lei
..Lei
..Lei
..Lei
click aici pentru cursurile pieței valutare - istoric