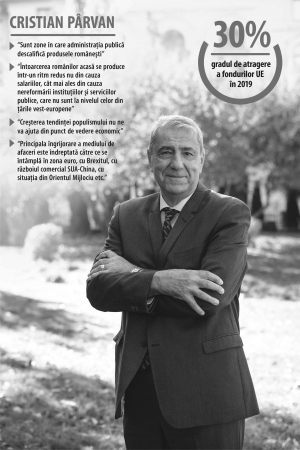 Recorded by Emilia Olescu (Translated by Cosmin Ghidoveanu)English Section / 10 ianuarie
Reporter: What were the end of 2019 and the beginning of 2020 like for businessmen?
Cristian Pârvan: The business sector feels that it must remain optimistic, considering last year's economic growth, of over 4%. This evolution is essentially a synopsis of the performance of the Romanian economy, even though we are still far from the results of economies similar to ours, namely Poland, the Czech Republic, Hungary, which have clearly higher performance ratios than we do. But, all in all, in spite of all the turbulence and challenges, our economy has found solutions to do well. Regarding the sources of that economic growth, it is obvious that 2019 saw a downward trend in terms of the participation of the industry in this performance. It is the first year in which the industry did not perform well, and stopped being an essential contributor, in terms of growth, to the evolution of the GDP.
One area where Government Emergency Ordinance 114/2018 had a positive effect was in the constructions sector. The figure with which construction increased in 2019 compared to 2018 shows that this stimulus was needed in the construction industry. A side effect was that a number of construction workers returned home, because the wages here were high enough to no longer justify their working abroad.