15 MILLION EUROS ADDED TO THE TURNOVER OF THE BSE

BURSA 13.01.2014

Adina Ardeleanu (Translated by Cosmin Ghidoveanu)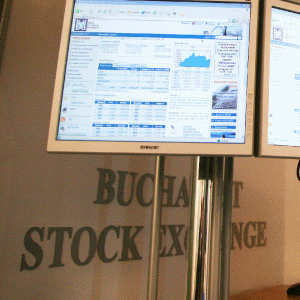 * Market voices are saying that most likely, the trades were made by the funds, and some suspect "Franklin Templeton" was behind them
It seems like on Friday, someone yelled "Ready, Set, Go!", as just one minute before 15:00, the BSE received orders for four "deal" trades, involving 0.37% of the Proprietatea Fund, 1.41% of SIF4 "Muntenia", 0.85% of SIF5 "Oltenia" and 0.5% of SIF2 "Moldova". These trades significantly boosted the turnover of the exchange, by almost 15 million Euros, of which the Proprietatea Fund accounted for 9.64 million Euros.
The parties involved in these exchanges remain unknown, for now. The BSE did not post any report concerning the sellers or the buyers of the negotiated deals which occurred on Friday, and it is possible that it won't do it later either, if no insiders were involved.
Some market voices consider that the exchanges were made between investment funds, perhaps even between funds owned by the same management company. Some voices are saying that there are new investors that are building their portfolios, whereas other tend to believe those deals had Franklin Templeton behind them, as a possible seller.
The trades came as the legislation concerning the SIFs is expected to see amendments in the beginning of this year.
At the end of last year, Mircea Ursache, the vice-president of the stock market division of the Financial Oversight Authority, proposed the amendment of the maximum holding limit of the SIFs and the BSE and allowing the SIFs to hold stakes in each other.
What was interesting in Friday's session was that the prices of the "deal" exchanges were down compared to the reference prices (-1.36% for the Proprietatea Fund, -1.57%, for SIF4, -1.30% in the case of SIF5 and -0.07% in the case of SIF2). However, the shares of SIF1 Banat-Crișana and SIF3 Transilvania, which were not the object of "deal" trades, gained 1.45%, and 0.97% respectively.
Aside from the story that most market participants agree on - that the negotiated trades were initiated by funds, there are some voices saying that 2014 is an electoral year, and when that kind of political events are getting near, they are also reflected in changes in the stock portfolios of some players.
Moreover, the NBR cut the policy rate from 4% to 3.75%/year on Wednesday, as well as the minimum required reserves of the banks for deposits denominated in lei (RMO) from 15% to 12%, and from 20% to 18% for deposits denominated in foreign currencies. Theoretically at least, the decisions of the NBR should favor the stock market. The interest rate cuts are spurring investors to seek alternative placements, and the Stock Exchange should do everything in its power to attract them. The cut of the minimum required reserves for Euros will release approximately 500 million Euros, and that of the minimum required reserves for lei will free up about 4 billion lei, according to NBR Governor, Mugur Isărescu. There are expectations that a portion of those amounts will be repatriated by the parent banks.
Lately, the National Bank of Romania has been showing increased interest in the stock market. The NBR is involved in the creation of a domestic Central Counterparty (an institution which is required by the EU regulations for the settlement of derivatives trades).
[ print ]

Aceeasi sectiune (English Section)















bursa.ro in other languages
Prognoza Meteo
29.06.2017
Prognoza pentru România

Vremea va continua să se încălzească, astfel că valul de căldură se va intensifica și va cuprinde cea mai mare parte a țării. Disconfortul termic va fi accentuat - indicele temperatură-umezeală (ITU) va depăși pragul critic de 80 de unități în special în sud-vestul, sudul și estul țării și local va fi caniculă. Temperaturile maxime se vor încadra, în general, între 29 și 39 de grade, cu cele mai ridicate valori în Lunca Dunării, iar cele minime vor fi cuprinse între 12 și 23 de grade. Cerul va fi variabil, dar după-amiaza și în prima parte a nopții vor fi înnorări temporar accentuate, averse, posibil torențiale, descărcări electrice și izolat căderi de grindină în regiunile vestice, nordice, centrale, la deal, la munte și pe arii restrânse în restul teritoriului. Vântul va avea intensificări în jumătatea de vest a țării și local în celelalte regiuni, izolat putând lua aspect de vijelie.
Prognoza pentru București

Vremea va fi călduroasă, caniculară după-amiază, când și disconfortul termic va fi ridicat. Cerul va fi variabil, cu unele înnorări spre seară, dar condițiile pentru averse și descărcări electrice vor fi reduse. Vântul va sufla slab și moderat. Temperatura maximă va fi de 35...36 de grade, iar cea minimă se va situa în jurul valorii de 21 de grade.
Curs valabil din data de 28 iunie 2017
1 Dolar australian...
1 Leva bulgărească...
1 Dolar canadian....
1 Franc elvețian...
1 Coroană cehă...
1 Coroană daneză...
1 Liră egipteană...
1 Euro...
1 Liră sterlină...
100 Forinți maghiari...
100 Yeni japonezi...
1 Leu moldovenesc...
1 Coroană norvegiană...
1 Zlot polonez...
1 Rublă rusească...
1 Coroană suedeză...
1 Liră turcească...
1 Dolar S.U.A...
1 Rand sud-african...
1 Real brazilian...
1 Renminbi chinezesc...
1 Rupie indiană...
100 Woni sud-coreeni...
1 Peso mexican...
1 Dolar neo-zeelandez...
1 Dinar sărbesc...
1 Hryvna ucraineană...
1 Dirham emirate arabe...
1 Kuna croată...
1 Bahtul thailandez...
1 Gram aur...
1 DST...
AUD
BGN
CAD
CHF
CZK
DKK
EGP
EUR
GBP
HUF
JPY
MDL
NOK
PLN
RUB
SEK
TRL
USD
ZAR
BRL
CNY
INR
KRW
MXN
NZD
RSD
UAH
AED
HRK
THB
XAU
XDR
3,0466
2,3296
3,0543
4,1753
0,1732
0,6126
0,2216
4,5563
5,1443
1,4700
3,5760
0,2215
0,4765
1,0757
0,0675
0,4666
1,1371
4,0114
0,3087
1,2106
0,5899
0,0621
0,3504
0,2229
2,9111
0,0376
0,1550
1,0921
0,6147
0,1180
161,95035
5,5666
..Lei
..Lei
..Lei
..Lei
..Lei
..Lei
..Lei
..Lei
..Lei
..Lei
..Lei
..Lei
..Lei
..Lei
..Lei
..Lei
..Lei
..Lei
..Lei
..Lei
..Lei
..Lei
..Lei
..Lei
..Lei
..Lei
..Lei
..Lei
..Lei
..Lei
..Lei
click aici pentru cursurile pieței valutare - istoric