AUTOMOBILE DACIA AND RENAULT COMMERCIAL ROUMANIE ARE WITHDRAWING FROM THE APIA

BURSA 06.02.2017

C.I. (translated by Cosmin Ghidoveanu)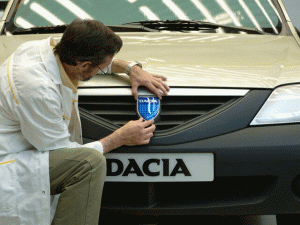 Automobile Dacia and Renault Commercial Roumanie (a company that sells the Dacia, Renault and Nissan in Romania) have expressed at the end of last week, in an official letter, the decision to abandon the role of member of the Romanian Association of Manufacturers and Importers of Automobiles (APIA).
The two companies have also announced that their interests will be represented by ACAROM (The Association of Romanian Automobile Constructors).
As ACAROM members, Automobile Dacia and Renault Commercial Roumanie will continue to support the programs that target the national market for new vehicles, according to the official letter, which states: "The objective is to facilitate the access of Romanian customers to the purchase of new and performing vehicles and to reduce the number of polluting vehicles, which represent a real danger for the environment, as well as for road safety».
At the same time, Automobile Dacia and Renault Commercial Roumanie will consolidate their support for the ACAROM with activities that over 16,000 employees contribute to in Romania, the letter further says. One of the concerns is to maintain the industrial capacity of local suppliers of the automotive industry, the activities of the dealers and of their over 150,000 employees whose expertise is very important for the ACAROM.
[ print ]

Aceeasi sectiune (English Section)















bursa.ro in other languages
Prognoza Meteo
20.08.2017
Prognoza pentru România
Vremea va fi călduroasă în cea mai mare parte a țării, caniculară după-amiaza pe arii relativ extinse în Oltenia, Muntenia și local în Moldova și Transilvania, unde și disconfortul termic va fi ridicat, indicele temperatură umezeală (ITU), urmând să atingă și să depășească ușor pragul critic de 80 de unități. Cerul va fi variabil, dar în regiunile vestice, nord-vestice și pe arii restrânse în cele centrale instabilitatea atmosferică se va accentua treptat și mai ales în a doua parte a intervalului se va manifesta prinînnorări temporar accentuate, averse care vor avea și caracter torențial, frecvente descărcări electrice, intensificări ale vântului ce vor lua și aspect de vijelie și căderi de grindină. Cantitățile de apă vor depăși izolat 20...25 l/mp. Temperaturile maxime se vor încadra între 28 și 36 de grade, cu cele mai scăzute valori pe litoral și în extremitatea de vest a țării, iar cele minime vor fi cuprinse între 13 și 23 de grade, mai scăzute în depresiuni spre 8...9 grade.
Prognoza pentru București
Vremea va fi călduroasă, chiar caniculară după-amiază. Temperatura maximă se va situa în jurul valorii de 35 de grade, iar cea minimă va fi de 17...18 grade, ușor mai scăzută în zona preorășenească. Cerul va fi variabil, mai mult senin în prima parte a zilei, iar vântul va sufla slab și moderat.

Curs valabil din data de
1 Dolar australian...
1 Leva bulgărească...
1 Dolar canadian....
1 Franc elvețian...
1 Coroană cehă...
1 Coroană daneză...
1 Liră egipteană...
1 Euro...
1 Liră sterlină...
100 Forinți maghiari...
100 Yeni japonezi...
1 Leu moldovenesc...
1 Coroană norvegiană...
1 Zlot polonez...
1 Rublă rusească...
1 Coroană suedeză...
1 Liră turcească...
1 Dolar S.U.A...
1 Rand sud-african...
1 Real brazilian...
1 Renminbi chinezesc...
1 Rupie indiană...
100 Woni sud-coreeni...
1 Peso mexican...
1 Dolar neo-zeelandez...
1 Dinar sărbesc...
1 Hryvna ucraineană...
1 Dirham emirate arabe...
1 Kuna croată...
1 Bahtul thailandez...
1 Gram aur...
1 DST...
AUD
BGN
CAD
CHF
CZK
DKK
EGP
EUR
GBP
HUF
JPY
MDL
NOK
PLN
RUB
SEK
TRL
USD
ZAR
BRL
CNY
INR
KRW
MXN
NZD
RSD
UAH
AED
HRK
THB
XAU
XDR
3,0951
2,3460
3,0880
4,0606
0,1758
0,6170
0,2198
4,5883
5,0360
1,5110
3,5800
0,2198
0,4918
1,0728
0,0657
0,4805
1,1069
3,9066
0,2946
1,2305
0,5855
0,0609
0,3423
0,2184
2,8612
0,0385
0,1531
1,0636
0,6199
0,1176
162,7078
5,5046
..Lei
..Lei
..Lei
..Lei
..Lei
..Lei
..Lei
..Lei
..Lei
..Lei
..Lei
..Lei
..Lei
..Lei
..Lei
..Lei
..Lei
..Lei
..Lei
..Lei
..Lei
..Lei
..Lei
..Lei
..Lei
..Lei
..Lei
..Lei
..Lei
..Lei
..Lei
click aici pentru cursurile pieței valutare - istoric