BURSA 13.11.2017

A.S. (Translated by Cosmin Ghidoveanu)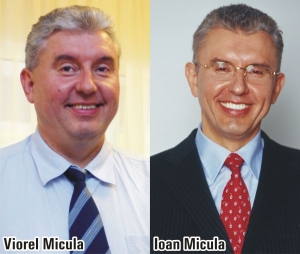 In October, the Romanian Commercial Bank, through Schoenherr și Asociații, has submitted, with the County Court of Bihor, a request for the insolvency of the European Drinks group, owned by the Micula brothers. That group includes: European Drinks, Transilvania General Import-Export, European Food, Starmill SRL, Scandic Distilleries SA, Rieni Drinks.
Sources from the insolvency business claim that the debt of the European Drinks group to BCR is about 180 million Euros and about 100 million Euros to the Romanian government.
In March last year, the Ministry of Public Finances announced, in a press release, that Romania has paid the compensations owed to the Micula brothers, which had been set in 2013 by the Arbitration Court of Washington, of approximately 376,433,229 lei plus interest, the equivalent of approximately 84.50 million plus interest, but it enact the decision of the European Commission to recoup the amount, because otherwise it is at risk of having an infringement procedure being opened against it, as the payment can be considered a state aid.
In 2015, lawyer Gheorghe Piperea was saying: "Following the ICSID decision of 2013, the state is required to pay the Micula brothers approximately 180 million Euros.
In January 2014, the Minister of Finance has decided to offset part of that amount with the debts which the companies owned by the two businessmen had to the state budget. The Micula brothers challenged the decision, and that offset is now considered by the European Commission as an illegal state aid, which has to be repaid. Since the state has still not paid the debt set by the ICSID to this day, about 180 million Euros in penalties and interest have accrued since then".
The lawyer claims that the decision of the EC does not invalidate the ruling of the ICSID and that those penalties need to be paid by the Ministry of Finance.
The Micula brothers were announcing at the time, that they were going to challenge in court, in the European and national courts, the ruling of the EC that the state needs to recoup from them the damages awarded following the termination of a program for supporting investments in disadvantaged areas, as they deemed it abusive.
Ioan Micula, who has a Swedish citizenship, was saying that if the group he owns together with his brother will be affected by the decision of the European Commission, they will sue the Romanian state for 2.5 billion Euros, which is how much the investments they made in Romania are worth.
[ print ]

Aceeasi sectiune (English Section)















Actualitate - vezi toate știrile mai jos.
bursa.ro in other languages
Prognoza Meteo
20.03.2018
Prognoza pentru România

Vremea se va menține deosebit de rece. Cerul va fi mai mult noros și se vor semnala precipitații - ziua, în nordul, centrul, estul și sud-estul țării și izolat în rest, iar noaptea local în regiunile sud-vestice. Acestea vor fi sub formă de ninsoare în zona montană și în Moldova; ploaie și lapoviță în Dobrogea și pe arii restrânse în Muntenia și mixte în rest. Local, în sud-est și izolat în restul teritoriului, se va forma polei. Vântul va sufla slab și moderat, cu unele intensificări în centru și în sud-est, cu viteze în general de 50...55 km/h, dar și la munte, cu rafale de peste 70...80 km/h, în special pe creste. Temperaturile maxime se vor încadra, în general, între -5 și 5 grade, iar cele minime vor fi cuprinse între -9 și 1 grad.
Prognoza pentru București

Vremea se va menține deosebit de rece; temperatura maximă va fi de 0...1 grad, iar cea minimă de -7...-5 grade, mai coborâtă la periferia orașului. Ziua, cerul va fi mai mult noros și va continua să ningă până în orele amiezii, astfel că se va depune strat nou de zăpadă, ce va totaliza în jur de 7...12 cm, izolat posibil 15 cm. În partea a doua a intervalului cerul va deveni variabil. Vântul va sufla slab și moderat.
Curs valabil din data de 19 martie 2018
1 Dolar australian...
1 Leva bulgărească...
1 Dolar canadian....
1 Franc elvețian...
1 Coroană cehă...
1 Coroană daneză...
1 Liră egipteană...
1 Euro...
1 Liră sterlină...
100 Forinți maghiari...
100 Yeni japonezi...
1 Leu moldovenesc...
1 Coroană norvegiană...
1 Zlot polonez...
1 Rublă rusească...
1 Coroană suedeză...
1 Liră turcească...
1 Dolar S.U.A...
1 Rand sud-african...
1 Real brazilian...
1 Renminbi chinezesc...
1 Rupie indiană...
100 Woni sud-coreeni...
1 Peso mexican...
1 Dolar neo-zeelandez...
1 Dinar sărbesc...
1 Hryvna ucraineană...
1 Dirham emirate arabe...
1 Kuna croată...
1 Bahtul thailandez...
1 Gram aur...
1 DST...
AUD
BGN
CAD
CHF
CZK
DKK
EGP
EUR
GBP
HUF
JPY
MDL
NOK
PLN
RUB
SEK
TRY
USD
ZAR
BRL
CNY
INR
KRW
MXN
NZD
RSD
UAH
AED
HRK
THB
XAU
XDR
2.9252
2.3852
2.8999
3.9829
0.1835
0.6263
0.2154
4.6650
5.3223
1.5002
3.5744
0.2290
0.4904
1.1070
0.0658
0.4628
0.9635
3.7930
0.3153
1.1569
0.5990
0.0583
0.3544
0.2021
2.7405
0.0395
0.1434
1.0326
0.6277
0.1216
160.0373
5.5057
..Lei
..Lei
..Lei
..Lei
..Lei
..Lei
..Lei
..Lei
..Lei
..Lei
..Lei
..Lei
..Lei
..Lei
..Lei
..Lei
..Lei
..Lei
..Lei
..Lei
..Lei
..Lei
..Lei
..Lei
..Lei
..Lei
..Lei
..Lei
..Lei
..Lei
..Lei
click aici pentru cursurile pieței valutare - istoric