BURSA 09.02.2016

V.R. (translated by Cosmin Ghidoveanu)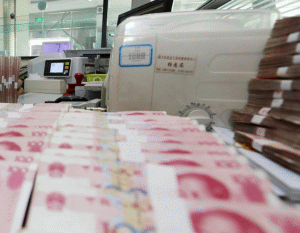 * Down 100 billion dollars in January
China's currency reserves have reached their lowest level in the last four years, as the central bank in Beijing (PBOC) sold dollars to support the exchange rate of the yuan.
According to official data, China's currency reserves have decreased by 99.5 billion dollars last month, to 3,230 billion dollars - the lowest level since May 2012. Analysts were expecting a bigger decline: 120 billion dollars, according to the record drop in December, of 107.9 billion dollars.
The PBOC has been intervening in the market as lately, the worries over the Chinese economy have led to the depreciation of the national currency (yuan) to the lowest level in the last five years. To stop the depreciation, the Central Bank of China has been selling dollars.
The authorities in Beijing have set a goal of economic growth of 6.5-7% for 2016.
It bears mentioning that India's GDP has increased 7.3% in the last quarter of last year, at annual rate, this being the biggest growth rate seen by the major economies of the world, higher than China's, which has been 6.8%. Officials in India expect an economic growth of 7.6% for the fiscal year that ends in March.
[ print ]

Aceeasi sectiune (English Section)