EARTHLY LAWS, IGNORED ON THE BSE PLANET

BURSA 12.10.2017

ADINA ARDELEANU (translated by Cosmin Ghidoveanu)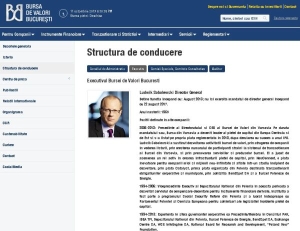 The Bucharest Stock Exchange (BVB), the operator of the Romanian capital market, still stands by the nonsensical claim made by its former CEO Ludwik Sobolewski, that his contract expired on August 21st, but not his mandate.
The BSE's website shows in its "management structure" section that Ludwik Sobolewski is its CEO, starting with August 2013, with the mention that he is not exercising his "mandate as CEO starting with August 22nd 2017".
Perhaps the BSE thinks it is in a different dimension, where the earthly laws do not apply: the Civil Code which says that the mandate and the contract are the same thing, the Financial Oversight Authority, which says that Sobolewski is no longer CEO doesn't matter, it doesn't matter that ASF vice-president Mircea Ursache further confirms it, not even the decision of the BSE itself, which has decided to launch a selection process, matters, or the fact that candidates have been selected, or interviews were held ... everybody is just stupid.
Ludwik "My contract is over, but not my mandate" Sobolewski is the supreme leader, for life, at the BSE and nothing gets done without him.
Perhaps that is why the representatives of the BSE have not answered the request of October 4th to tell us the current status of the selection of the new CEO.
Since September 25th, the candidates for the position - Andre Cappon, Paul Prodan and Ludwik Sobolewski, who was included in the race without submitting his application - , are waiting for the results of the selection.
BSE president BVB Lucian Anghel has not said anything about the selection process. On September 28th, he only said that he couldn't talk in detail about the matter, saying: "That is not exclusively up to us".
The candidates have been waiting for an answer for over two weeks, of course, in the hope that they didn't just participate in a sham.
But that is pretty much what the answer of Lucian Anghel and the behavior of the BSE seem to indicate.
Gall, lack of respect and violation of the law, all left unsanctioned, by the Financial Oversight Authority or by the shareholders.
[ print ]

Aceeasi sectiune (English Section)