GHEORGHE PIPEREA:

BURSA 30.01.2017

Emilia Olescu (translated by Cosmin Ghidoveanu)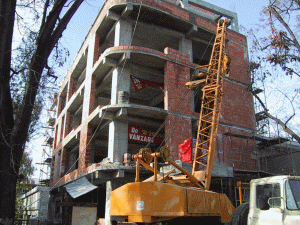 * The Finance Ministry wants to lower the amount allocated to the First Home program by 15%
* The total amount of collaterals paid out so far by the program exceeds 44 million lei
* The law of giving in payment does not apply to the First Home program
The First Home program may disappear this year, lawyer Gheorghe Piperea said in an interview.
He also mentioned: "I predict that the First Home program will disappear this year. I hope that the PSD will keep its word, as it has said that it wants a different kind of program, which will truly be a social program, for the people, not one that serves as a state aid for banks and for real estate developers".
The Ministry of Public Finances (MFP) wants to reduce by almost 15% the ceiling of the guarantees for the First Home program for the current year, according to a draft law posted on the Finance Ministry's website, on Friday.
The draft states that the proposed guarantees for this year amount to 2.5 billion lei, down from 2.94 billion lei last year.
According to Piperea, the issue of the First Home program is that inflation and the interest rates will increase. Gheorghe Piperea explained: "At an inflation rate of 2%, we can expect a ROBOR that rises to 5%, perhaps even 7%, by autumn. Right now, First Home loans have a spread of 2.5% and the ROBOR, which sits at 0.8% after six months. If the ROBOR just rises to 3%, not 7%, interest expenses will practically double.
That will make defaults, which are relatively rare under this program, increase. Also, the failure to pay on time means three very serious consequences - the Romanian government will pay half of the collateral, then it will foreclose that home in favour of the bank, and then government subrogates the bank and pursues the debtor for the outstanding amounts, because the debt isn't cancelled after through foreclosure. Not only is the debtor pursued, but they are also penalized at a rate of up to 18% a year - the amount of the penalties practiced by the ANAF. That man becomes a taxpayer".
Lawyer Gheorghe Piperea thinks that the decision to have the Law of giving in payment not apply to the First Home program was a disaster, because "it will lead to very serious social issues, and these loans will become social cases".
He said: "Debtors will not qualify for the direct giving in payment, but based on the argumentation of the Romanian Constitutional Court, people with loans under the First Home program will also have the option to resort to that law, for the rebalancing of the contract or for the termination of its effects, which will mean the cancelling of the debt and the foreclosure of the property, based on the Civil Code".
Since the launch of this governmental program - in 2009 - and until the end of November 2016, 203,783 guarantees have been extended, amounting to a total of 17.5 billion lei, according to the document posted on the Finance Ministry's website. Since the beginning of last year and until the end of November, 32,747 guarantees have been granted, amounting to 3.1 billion lei.
The draft law states: "So far, the Program has recorded 767 requests for payment, of which, by December 29th, 2016, 521 have been paid out, and the total amount of the guarantees paid out is 44,077,264.79 lei. A number of 130 requests for foreclosure, amounting to a total of 540,281.65 lei and 2,151,748.80 Euros have been rejected. Out of the foreclosed collaterals, 14, with a total value of 1,098,768.98 lei, have been reinstated, and the remaining 781 requests for foreclosure is represented by requests for payments that were withdrawn, as their afferent guarantees are still in effect, and by the requests for analysis, for which no decisions for payment/rejection have been issued, as they have 2017 deadlines for processing".
The draft law has been issued in order to amend and complete the Government ruling no. 717/2009 concerning the approval of the norms for the implementation of the First Home program.
[ print ]

Aceeasi sectiune (English Section)















bursa.ro in other languages
Prognoza Meteo
20.08.2017
Prognoza pentru România
Vremea va fi călduroasă în cea mai mare parte a țării, caniculară după-amiaza pe arii relativ extinse în Oltenia, Muntenia și local în Moldova și Transilvania, unde și disconfortul termic va fi ridicat, indicele temperatură umezeală (ITU), urmând să atingă și să depășească ușor pragul critic de 80 de unități. Cerul va fi variabil, dar în regiunile vestice, nord-vestice și pe arii restrânse în cele centrale instabilitatea atmosferică se va accentua treptat și mai ales în a doua parte a intervalului se va manifesta prinînnorări temporar accentuate, averse care vor avea și caracter torențial, frecvente descărcări electrice, intensificări ale vântului ce vor lua și aspect de vijelie și căderi de grindină. Cantitățile de apă vor depăși izolat 20...25 l/mp. Temperaturile maxime se vor încadra între 28 și 36 de grade, cu cele mai scăzute valori pe litoral și în extremitatea de vest a țării, iar cele minime vor fi cuprinse între 13 și 23 de grade, mai scăzute în depresiuni spre 8...9 grade.
Prognoza pentru București
Vremea va fi călduroasă, chiar caniculară după-amiază. Temperatura maximă se va situa în jurul valorii de 35 de grade, iar cea minimă va fi de 17...18 grade, ușor mai scăzută în zona preorășenească. Cerul va fi variabil, mai mult senin în prima parte a zilei, iar vântul va sufla slab și moderat.

Curs valabil din data de
1 Dolar australian...
1 Leva bulgărească...
1 Dolar canadian....
1 Franc elvețian...
1 Coroană cehă...
1 Coroană daneză...
1 Liră egipteană...
1 Euro...
1 Liră sterlină...
100 Forinți maghiari...
100 Yeni japonezi...
1 Leu moldovenesc...
1 Coroană norvegiană...
1 Zlot polonez...
1 Rublă rusească...
1 Coroană suedeză...
1 Liră turcească...
1 Dolar S.U.A...
1 Rand sud-african...
1 Real brazilian...
1 Renminbi chinezesc...
1 Rupie indiană...
100 Woni sud-coreeni...
1 Peso mexican...
1 Dolar neo-zeelandez...
1 Dinar sărbesc...
1 Hryvna ucraineană...
1 Dirham emirate arabe...
1 Kuna croată...
1 Bahtul thailandez...
1 Gram aur...
1 DST...
AUD
BGN
CAD
CHF
CZK
DKK
EGP
EUR
GBP
HUF
JPY
MDL
NOK
PLN
RUB
SEK
TRL
USD
ZAR
BRL
CNY
INR
KRW
MXN
NZD
RSD
UAH
AED
HRK
THB
XAU
XDR
3,0951
2,3460
3,0880
4,0606
0,1758
0,6170
0,2198
4,5883
5,0360
1,5110
3,5800
0,2198
0,4918
1,0728
0,0657
0,4805
1,1069
3,9066
0,2946
1,2305
0,5855
0,0609
0,3423
0,2184
2,8612
0,0385
0,1531
1,0636
0,6199
0,1176
162,7078
5,5046
..Lei
..Lei
..Lei
..Lei
..Lei
..Lei
..Lei
..Lei
..Lei
..Lei
..Lei
..Lei
..Lei
..Lei
..Lei
..Lei
..Lei
..Lei
..Lei
..Lei
..Lei
..Lei
..Lei
..Lei
..Lei
..Lei
..Lei
..Lei
..Lei
..Lei
..Lei
click aici pentru cursurile pieței valutare - istoric