BURSA 07.02.2017

MAKE (translated by Cosmin Ghidoveanu)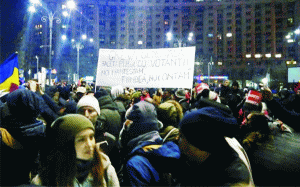 That's it, PSD has eliminated all the problems that we were complaining about one month ago, we are no longer interested in the issues of the medical system, the devolution of the education system, the unusual taxation, Romania's assets sold to foreigners, the ruined irrigation system -, it's all gone down memory lane.
Just one month of PSD government and presto, they're gone.
Isn't that why the PSD has been voted in?
Yes it is.
They've kept their word.
Now we have a different set of problems: we have become the global center of the fight against corruption, we are faced with the spectral threat of an absurd civil war, with the rumors of a country's breakup and with the shocking breakup of president Klaus Iohannis being brought down, or of PSD president Liviu Dragnea.
Well?
That's something!
There are rumors that the PSD has called back its Jewish consultants which it has worked with during the electoral campaign.
I thought that they hadn't even left, but the failure of passing the ordinances for the amendment of the Criminal Code proves that they had.
Their recall proves that PSD wants to manage the crisis.
The government didn't want to withdraw the ordinances, to avoid the protesters smelling blood in the water.
It did.
Victorious, the protesters feel like they want more and, eventually, want more.
What?
Logically, the fall of the Grindeanu government, which has been compromised.
The smell of blood incites.
The fall of the Grindeanu government would further inflame things and what else would the protesters want? - logically, the replacement of Liviu Dragnea as leader of the PSD, because after all, it is perceived as the one who compromised the Grindeanu government and therefore will compromise any other PSD government.
Oops!
And thus we have a crisis.
Dragnea is a head of a political party, he can't just be dismissed through an administrative decision, there is no internal force within the PSD to bring him down, and he has no plans to do it of his own accord, because then he'll be torn to shreds, including by his own team, and Laura Codruța Kovesi would shove him into the crocodile pit.
Hence, the Jews.
These Jewish consultants have experience in situations of crisis.
To them, Romania is just a country among many, they are contractors paid to resolve a specific problem of their client.
Their client is Dragnea who is at the helm of the PSD.
The problem is not being thrown into the crocodile pit.
The resolution is for president Klaus Iohannis, who is encouraging the protests, to be dismissed.
OK, we knew that ourselves, but what's the method for dismissing him?
Perversely.
The protests can be moved from the Government building, to the Parliament's building, where they have said that they would send that ordinance as a draft law.
Protests in front of the Parliament, organized nature, laser pointers, flags, warm food, hotels, Soros - equals coup.
The army around the Parliament to protect democracy.
Anarchy.
Putin.
Hungarians, the Szekely land.
Isn't Klaus Iohannis encouraging the protests?, I have just said it!
The suspension of president Klaus Iohannis, interim Călin Popescu Tăriceanu.
Protests intensify.
Referendum organized by the PSD government.
PSD voters go out to vote, according to the latest election they have the majority.
Clashes with the protesters, Dinamo, Steaua, maimed police officers, vans full of arrested protesters.
The TV networks side with the PSD.
Klaus Iohannis dismissed, early elections, Liviu Dragnea Romania's president.
The law that prevents him from being prime-minister does not prevent him from him being president.
Zing!
[ print ]

Aceeasi sectiune (English Section)















bursa.ro in other languages
Prognoza Meteo
20.08.2017
Prognoza pentru România
Vremea va fi călduroasă în cea mai mare parte a țării, caniculară după-amiaza pe arii relativ extinse în Oltenia, Muntenia și local în Moldova și Transilvania, unde și disconfortul termic va fi ridicat, indicele temperatură umezeală (ITU), urmând să atingă și să depășească ușor pragul critic de 80 de unități. Cerul va fi variabil, dar în regiunile vestice, nord-vestice și pe arii restrânse în cele centrale instabilitatea atmosferică se va accentua treptat și mai ales în a doua parte a intervalului se va manifesta prinînnorări temporar accentuate, averse care vor avea și caracter torențial, frecvente descărcări electrice, intensificări ale vântului ce vor lua și aspect de vijelie și căderi de grindină. Cantitățile de apă vor depăși izolat 20...25 l/mp. Temperaturile maxime se vor încadra între 28 și 36 de grade, cu cele mai scăzute valori pe litoral și în extremitatea de vest a țării, iar cele minime vor fi cuprinse între 13 și 23 de grade, mai scăzute în depresiuni spre 8...9 grade.
Prognoza pentru București
Vremea va fi călduroasă, chiar caniculară după-amiază. Temperatura maximă se va situa în jurul valorii de 35 de grade, iar cea minimă va fi de 17...18 grade, ușor mai scăzută în zona preorășenească. Cerul va fi variabil, mai mult senin în prima parte a zilei, iar vântul va sufla slab și moderat.

Curs valabil din data de
1 Dolar australian...
1 Leva bulgărească...
1 Dolar canadian....
1 Franc elvețian...
1 Coroană cehă...
1 Coroană daneză...
1 Liră egipteană...
1 Euro...
1 Liră sterlină...
100 Forinți maghiari...
100 Yeni japonezi...
1 Leu moldovenesc...
1 Coroană norvegiană...
1 Zlot polonez...
1 Rublă rusească...
1 Coroană suedeză...
1 Liră turcească...
1 Dolar S.U.A...
1 Rand sud-african...
1 Real brazilian...
1 Renminbi chinezesc...
1 Rupie indiană...
100 Woni sud-coreeni...
1 Peso mexican...
1 Dolar neo-zeelandez...
1 Dinar sărbesc...
1 Hryvna ucraineană...
1 Dirham emirate arabe...
1 Kuna croată...
1 Bahtul thailandez...
1 Gram aur...
1 DST...
AUD
BGN
CAD
CHF
CZK
DKK
EGP
EUR
GBP
HUF
JPY
MDL
NOK
PLN
RUB
SEK
TRL
USD
ZAR
BRL
CNY
INR
KRW
MXN
NZD
RSD
UAH
AED
HRK
THB
XAU
XDR
3,0951
2,3460
3,0880
4,0606
0,1758
0,6170
0,2198
4,5883
5,0360
1,5110
3,5800
0,2198
0,4918
1,0728
0,0657
0,4805
1,1069
3,9066
0,2946
1,2305
0,5855
0,0609
0,3423
0,2184
2,8612
0,0385
0,1531
1,0636
0,6199
0,1176
162,7078
5,5046
..Lei
..Lei
..Lei
..Lei
..Lei
..Lei
..Lei
..Lei
..Lei
..Lei
..Lei
..Lei
..Lei
..Lei
..Lei
..Lei
..Lei
..Lei
..Lei
..Lei
..Lei
..Lei
..Lei
..Lei
..Lei
..Lei
..Lei
..Lei
..Lei
..Lei
..Lei
click aici pentru cursurile pieței valutare - istoric