BURSA 08.09.2014

G.M. (Translated by Cosmin Ghidoveanu)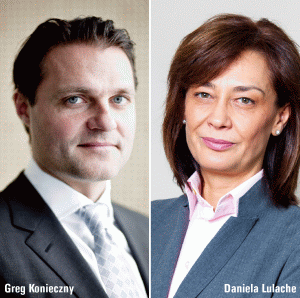 * Greg Konieczny: "The Proprietatea Fund has asked for additional information about the share capital increase of Hidroelectrica"
* Daniela Lulache: "The Proprietatea Fund has not requested information from us"
The Proprietatea Fund (FP) is reviewing the announcement made by Nuclearelectrica (SNN), concerning the intention to increase the share capital by 241.5 million lei, and has asked the company for additional information, according to Greg Konieczny, the executive vice-president of Franklin Templeton.
On the other hand, Daniela Lulache, the CEO of Nuclearelectrica, said that she has not received any request for information from the Proprietatea Fund.
She told us: "I can't think of a reason why the Proprietatea Fund would be against the share capital increase, because it was stipulated in the prospectus of the IPO from the very beginning. Specifically, this matter is related to contributions made by the Romanian government many years ago (2006-2009), except the capital increase hasn't been actually performed. It wasn't done at the same time as the listing because the process would have taken far too long. It is nothing new, it is just a materialization of a decision made a long time ago. Up until this time (ed. note: Friday evening), the Proprietatea Fund has not asked for any additional information concerning the share capital increase".
From the outside, the problem which the Proprietatea Fund might have is the fact that it would have to come up with cash to participate in the share capital increase, if it wants to avoid the dilution of its stake.
The shareholders of "Nuclearelectrica" have been summoned on October 6th, to approve the increase of the share capital by 241.5 million lei, through the issuing of a number of 24,149,991 new shares, according to a report sent yesterday, to the Bucharest Stock Exchange. Thus, the share capital of SNN would increase from 2.818 billion lei, to 3.059 billion lei.
Out of that total, 1.89 million lei take the form of a plot of land contributed by the Romanian government, 194.38 million lei represent the contribution in cash of the Romanian state, through the Ministry of the Economy, and the amounts allocated by the state budget for the 2006-2009 period, for the completion of Unit 2 of the Nuclearelectric Plant of Cernavodă, while the remaining shares will be offered sto the other shareholders.
"Nuclearelectrica" has ended the first semester 2014 with a net profit of 60.425 million lei, down 69% YOY (196.122 million lei), with the tax on special constructions being one of the causes of this drop, according to a press release of the company.
[ print ]

Aceeasi sectiune (English Section)















Actualitate - vezi toate știrile mai jos.
bursa.ro in other languages
Curs valabil din data de 20 iunie 2018
1 Dolar australian...
1 Leva bulgărească...
1 Dolar canadian....
1 Franc elvețian...
1 Coroană cehă...
1 Coroană daneză...
1 Liră egipteană...
1 Euro...
1 Liră sterlină...
100 Forinți maghiari...
100 Yeni japonezi...
1 Leu moldovenesc...
1 Coroană norvegiană...
1 Zlot polonez...
1 Rublă rusească...
1 Coroană suedeză...
1 Liră turcească...
1 Dolar S.U.A...
1 Rand sud-african...
1 Real brazilian...
1 Renminbi chinezesc...
1 Rupie indiană...
100 Woni sud-coreeni...
1 Peso mexican...
1 Dolar neo-zeelandez...
1 Dinar sărbesc...
1 Hryvna ucraineană...
1 Dirham emirate arabe...
1 Kuna croată...
1 Bahtul thailandez...
1 Gram aur...
1 DST...
AUD
BGN
CAD
CHF
CZK
DKK
EGP
EUR
GBP
HUF
JPY
MDL
NOK
PLN
RUB
SEK
TRY
USD
ZAR
BRL
CNY
INR
KRW
MXN
NZD
RSD
UAH
AED
HRK
THB
XAU
XDR
2.9802
2.3857
3.0328
4.0467
0.1806
0.6261
0.2258
4.6660
5.3083
1.4443
3.6638
0.2398
0.4925
1.0812
0.0635
0.4532
0.8485
4.0348
0.2950
1.0767
0.6234
0.0592
0.3649
0.1966
2.7766
0.0395
0.1524
1.0985
0.6318
0.1230
165.0626
5.6813
..Lei
..Lei
..Lei
..Lei
..Lei
..Lei
..Lei
..Lei
..Lei
..Lei
..Lei
..Lei
..Lei
..Lei
..Lei
..Lei
..Lei
..Lei
..Lei
..Lei
..Lei
..Lei
..Lei
..Lei
..Lei
..Lei
..Lei
..Lei
..Lei
..Lei
..Lei
click aici pentru cursurile pieței valutare - istoric