MAJORITY SHAREHOLDER MADE MOVES BEFORE THE FILING FOR INSOLVENCY

BURSA 16.02.2017

ADINA ARDELEANU (translated by Cosmin Ghidoveanu)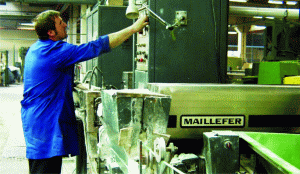 * That same Cyprus offshore "Stareal Limited" also appeared in a closed criminal lawsuit, which involved Zoltan Prosszer, the president of Romcab
---------
* UPDATE "Romcab" had losses of 178.23 million lei last year, after it got a profit of 42.13 million lei in 2015, according to the preliminary financial report sent this evening to the Bucharest Stock Exchange.
The company's total debt reached 925.4 million dollars in 2016, up from 761 million lei at the end of 2015.
Expenses with raw materials and consumables increased significantly, from 451.1 million lei in 2015, to 830.6 million lei at the end of 2016.
Operating expenses also rose to 1.2 billion lei, up from 771.2 million lei.
The cable maker also reports an operating loss of 183.2 million lei in 2016, after posting an operating profit of 71.4 million lei in 2015.
According to the report, the company's revenues increased from 842.5 million lei 1.02 billion lei.
---------------
The controlling stake of 69.02% of "Romcab" (MCAB), owned by "Sadalbari", has been pledged to "Stareal Limited" of Cyprus, on February 6th, 2017, four days before the Târgu Mureș cable maker filed for insolvency, according to the Electronic Archive for Secured Transactions.
The amount borrowed by "Sadalbari" from the Cypriot offshore is not mentioned, but the security expires on February 7th, 2022.
Furthermore, on January 27th, 2017, Romcab CEO Zoltan Prosszer, has assigned to Roxana Târcă (the representative of the department for the relationship with investors in Romcab) 35 of the 45 shares he held in "Sadalbari". As a result, Roxana Târcă has reached a stake of 46.7% in "Sadalbari", while Zoltan Prosszer was left with only 9.35%. The "Sadalbari" shareholder structure includes Rodica Dochițoiu (with 37.38%) and Amberyce Limited (with 6.54%), according to data from the Official Gazette.
The name of "Stareal Limited" also appears in a criminal case, in which Zoltan Prosszer, members of his family, Roxana Târcă and other close friends were indicted on charges of money laundering and tax evasion, but which was closed by the Prosecutors' Office of the County Court of Mureș, in 2015.
The criminal investigation bodies prosecutors stated, at the time, that the offense of money laundering did not exist because of the absence of the premise offense which would generate the amounts of money or the illicitly obtained goods which would then be hidden, concealed, or used in full knowledge of them being the result of a criminal offense.
The offenses of tax evasion which the Fraud Squad had reported in 2009, have not been prosecuted either.
But there are interesting aspects mentioned in the case in question, and particularly the investigation by the prosecutors of a loan granted by "Stareal Limited", which was never paid back, to a company which was not named, but which can be identified as "Sadalbari", based on the connections mentioned in the dossier.
Thus, in the presentation of the case made by the criminal investigation bodies, it is stated that on July 3rd, 2009, the Fraud Squad filed a complaint with the Prosecutors' Office of the County Court of Târgu Mureș which alleged that the loan of 2,379,970 Euros taken out from "Stareal Limited Cipru", by an unnamed company, in five installments, in 2007-2008 (loan which was never repaid, nor were the afferent interest payments), was not used by the borrowing company in order to finance its operating costs as stipulated in the loan agreement, but was instead used predominantly: - to pay off some illegally contracted debts from SC Paneuro Company SRL following its demerger, - to pay off some consulting services contracted for and in the interest of SC Romcab, a company in which Sadalbari, was a majority shareholder, - for the illegal acquisition and repayment of debts of other affiliated companies (Autoactive Company), which led to Sadalbari SRL incurring a loss of 4,342,352 lei, and the state budget being deprived of 603,489 lei representing profit tax and 503.362 lei VAT.
On September 10th, 2010 the Tax Administration Department of the county of Mureș filed a complaint with the Prosecutors' Office of the County Court of Târgu Mureș against the representatives of Sadalbari SRL, containing the same allegations as the notifications submitted by the Mureș Fraud Squad.
The cases brought following the aforementioned reports have been joined into the case of the Prosecutors' Office of the County Court of Mureș, which was eventually not closed.
"Romcab"'s filing for insolvency, which took place on Friday and was reported on Monday to the Bucharest Stock Exchange (BSE), will be heard on February 20th, by the Mureș County Court.
After the first nine months of 2016, Romcab reported total debts of 940.94 million lei, of which 74.65 million lei long term (down 9.01% YOY compared to 2015), and 866.29 million lei short term (up 27.59% YOY compared to 2015). Out of the total short term debt volume, commercial debt rose 43.76% in the first nine months of 2016, to 509.34 million lei, whereas loans amounted to 341.22 million lei. Long terms loans stood at 13 million lei, on September 30th, 2016.
Several banks have exposure to Romcab, as the company put up inventory and machinery as collateral.
In the market there is talk about the fact that EximBank allegedly accepted the inventory as collateral, based on an evaluation made by an independent company. Market sources are saying also that when the officials of the bank wanted to check the inventory, they found it didn't exist, which even led to a criminal complaint being filed against the evaluator.
The representatives of "Romcab" have sent the following statement to the Bucharest Stock Exchange: "Following the exhaustion of any other alternatives to surmount the difficult period that we are going through, as we have presented them in our press release of January 22nd, 2017, we hereby inform you about our intention to initiate the judicial reorganization procedure, as we have found it to be the solution for the efficient and effective turnaround of the activity of «Romcab». To that end, we have filed on February 10th, 2017 a request to enter insolvency, together with the firm intention to turn our activity around through a reorganization plan, which the County Court of Mureș will rule on".
But the company has not notified the Bucharest Stock Exchange about the changes in the shareholder structure of "Sadalbari", which owns the controlling interest in "Romcab".
MCAB shares also fell yesterday, another 15%, to 2.6 lei/share, posting a drop of -53.79%, in the last month.
[ print ]

Aceeasi sectiune (English Section)















bursa.ro in other languages
Prognoza Meteo
20.08.2017
Prognoza pentru România
Vremea va fi călduroasă în cea mai mare parte a țării, caniculară după-amiaza pe arii relativ extinse în Oltenia, Muntenia și local în Moldova și Transilvania, unde și disconfortul termic va fi ridicat, indicele temperatură umezeală (ITU), urmând să atingă și să depășească ușor pragul critic de 80 de unități. Cerul va fi variabil, dar în regiunile vestice, nord-vestice și pe arii restrânse în cele centrale instabilitatea atmosferică se va accentua treptat și mai ales în a doua parte a intervalului se va manifesta prinînnorări temporar accentuate, averse care vor avea și caracter torențial, frecvente descărcări electrice, intensificări ale vântului ce vor lua și aspect de vijelie și căderi de grindină. Cantitățile de apă vor depăși izolat 20...25 l/mp. Temperaturile maxime se vor încadra între 28 și 36 de grade, cu cele mai scăzute valori pe litoral și în extremitatea de vest a țării, iar cele minime vor fi cuprinse între 13 și 23 de grade, mai scăzute în depresiuni spre 8...9 grade.
Prognoza pentru București
Vremea va fi călduroasă, chiar caniculară după-amiază. Temperatura maximă se va situa în jurul valorii de 35 de grade, iar cea minimă va fi de 17...18 grade, ușor mai scăzută în zona preorășenească. Cerul va fi variabil, mai mult senin în prima parte a zilei, iar vântul va sufla slab și moderat.

Curs valabil din data de
1 Dolar australian...
1 Leva bulgărească...
1 Dolar canadian....
1 Franc elvețian...
1 Coroană cehă...
1 Coroană daneză...
1 Liră egipteană...
1 Euro...
1 Liră sterlină...
100 Forinți maghiari...
100 Yeni japonezi...
1 Leu moldovenesc...
1 Coroană norvegiană...
1 Zlot polonez...
1 Rublă rusească...
1 Coroană suedeză...
1 Liră turcească...
1 Dolar S.U.A...
1 Rand sud-african...
1 Real brazilian...
1 Renminbi chinezesc...
1 Rupie indiană...
100 Woni sud-coreeni...
1 Peso mexican...
1 Dolar neo-zeelandez...
1 Dinar sărbesc...
1 Hryvna ucraineană...
1 Dirham emirate arabe...
1 Kuna croată...
1 Bahtul thailandez...
1 Gram aur...
1 DST...
AUD
BGN
CAD
CHF
CZK
DKK
EGP
EUR
GBP
HUF
JPY
MDL
NOK
PLN
RUB
SEK
TRL
USD
ZAR
BRL
CNY
INR
KRW
MXN
NZD
RSD
UAH
AED
HRK
THB
XAU
XDR
3,0951
2,3460
3,0880
4,0606
0,1758
0,6170
0,2198
4,5883
5,0360
1,5110
3,5800
0,2198
0,4918
1,0728
0,0657
0,4805
1,1069
3,9066
0,2946
1,2305
0,5855
0,0609
0,3423
0,2184
2,8612
0,0385
0,1531
1,0636
0,6199
0,1176
162,7078
5,5046
..Lei
..Lei
..Lei
..Lei
..Lei
..Lei
..Lei
..Lei
..Lei
..Lei
..Lei
..Lei
..Lei
..Lei
..Lei
..Lei
..Lei
..Lei
..Lei
..Lei
..Lei
..Lei
..Lei
..Lei
..Lei
..Lei
..Lei
..Lei
..Lei
..Lei
..Lei
click aici pentru cursurile pieței valutare - istoric