ROW AROUND OLTCHIM

BURSA 27.07.2017

Emilia Olescu (translated by Cosmin Ghidoveanu)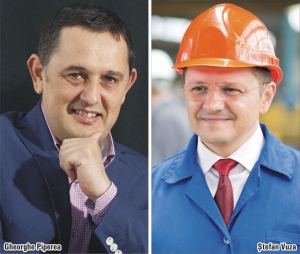 * Ștefan Vuza made a series of statements lately, saying that Oltchim is not making investments, that are there companies that parasitize Oltchim and that the plant's profit isn't real
* Oltchim executives: "It can be said that the participation of Chimcomplex in the process for the sale of Oltchim has been made exclusively in order to get access to information that would then be used for the benefit of their own businesses"
* Piperea: "If, because of these statements, the sale of the distinct blocks of assets fails, then Oltchim will bring a tort liability lawsuit, signed by me"
At Oltchim there is corruption and there are no parasite companies, lawyer Gheorghe Piperea, bankruptcy trustee of the Râmnicu Vâlcea plant, in response to the statements made over the course of last week by Ștefan Vuza, the owner of Chimcomplex Borzești.
Among other things, Ștefan Vuza said that the profit of Oltchim is not real, that the company never made any investments, that it has unions and corruption problems and that there are companies that parasitize the plant.
The management of Oltchim reacted to these statements and last night sent us a press release signed by the representatives of the consortium of Oltchim bankruptcy trustees - RomInsolv and BDO Business Restructuring SPRL -, by the executive management and by special administrator Bogdan Stănescu. In it, they expressed their concern over the impact that "the untrue information and the defamatory statements" made by Ștefan Vuza could have on the commercial relations of Oltchim. The aforementioned document states: "As Chimcomplex had access to thorough information, in the stage of the due-diligence which it had both the right and the time to verify, the statements it made become tendentious and malicious".
In response to the statements of Mr. Vuza, lawyer Gheorghe Piperea told us: "In order to have parasite companies and corruption during an insolvency procedure, the syndic judge, the committee of creditors, the bankruptcy trustees, the special administrator, the executives of the company would all have to be corrupt. So Mr. Vuza is saying that we are all corrupt, and that is unacceptable, because it is a slandering of all those who have gotten involved in this process and because it is extremely dangerous in terms of the reaction which the EU might have. Unfortunately, there have been a number of situations in which the EU people have taken into consideration what has been written in the press, not what we told them.
It is true that there has been corruption at Oltchim, there have been many parasite firms, but they stopped existing the moment we got there. They have all been removed. At Oltchim there is currently no corruption and parasite companies.
In four years and a half, since we have been in an insolvency procedure, everything has been transparent, everything is visible to the creditors, to the judges, to the Stock Exchange, to the press, with the exception of the aspects which the European Commission and the investment bank prevent us from making public - and that is normal to a certain degree.
Mr. Vuza is saying that there are problems with the unions. The problems with the unions are so «big», that all the lists with the employees that would transfer over to the buyer of the assets have been signed.
Also, Mr. Vuza is saying that there are no investments made in Oltchim. I will give you a few examples:
First of all, in the last three years, CAPEX type investments have been made at Oltchim - investments in technology and reconditioning of some machinery - of 7 million Euros, out of internal financing sources, which have made it now that now, Oltchim seems to have an EBITDA - the earnings before taxes - of 3.5 million Euros. That EBITDA was obtained in one month. Therefore, if we multiply 3.5 million Euros by 12, then we get the annual EBITDA of Oltchim.
At the same time, during the long period in which Oltchim was led by Constantin Roibu, there have been some disasters when it comes to the environment conditions, not just under the aspect of pollution, and even when it comes to the taking of decontamination measures on time, which is why we are now paying approximately 12 million Euros for compliance and 100,000 Euros a month, as fines. And that new pollution is not caused by us, rather we are decontaminating what Roibu contaminated up until five years ago.
Another stupid statement made by Mr. Vuza is that the Oltchim profit is not real. This company is listed on the Stock Exchange. In order to declare profit, we need to notify the Tax Administration and the Bucharest Stock Exchange. Once we announce the tax administration that we have a profit, we also pay the profit tax. Last week, through the bank, we paid 6.25 million lei as profit tax. How can you say that that profit does not exist, in that context?"
The press release sent last night by the management of Oltchim is saying: "Concerning the profit tax, in order to discuss only the latest financial information, we have to clarify the fact that both in the first and the second quarter of 2017, Oltchim has paid to the state budget an amount of approximately 10 million lei, representing profit tax.
Also, in the first four and a half years of insolvency, Oltchim has made significant investments in retooling the production capabilities, such as the electrolysis installation with membranes, the oxoalcohols installation, propenoxide, in the used wastewater installation etc.
Besides, Oltchim is a public company, and the information that Mr. Vuza presents as true (environmental problems, the lack of profit, the lack of investments) are contradicted by the reports/official notices made both to the Bucharest Stock Exchange, to the institutions of the state, as well as to European institutions".
The management of the plant of Râmnicu Vâlcea thinks that the statements made by Mr. Vuza considering that Chimcomplex is a competitor of Oltchim SA on the chemical products market are all the more concerning it and could lead to the conclusion that Chimcomplex only got involved in the sale process to get access to inside information which it would then use to the benefit of its own business rather than for the purpose it committed to do it for - namely to buy blocks of share in Oltchim SA.
"The completely false statements made by the representative of Chimcomplex violate the European and national principles when it comes to competition/unfair competition", the press release of Oltchim further states.
Lawyer Gheorghe Piperea concluded: "If, because of the statements made by Ștefan Vuza in the last week, the sale of the distinct blocks of assets fails, then Oltchim will bring a tort liability lawsuit, signed by me, because 2000 employees and a few other thousand people who depend on the existence of this company".
Chimcomplex Borzești filed a binding offer for the acquisition of the assets of Oltchim, a company which is insolvent.
[ print ]

Aceeasi sectiune (English Section)















bursa.ro in other languages
Prognoza Meteo
18.03.2018
Prognoza pentru România
Vremea se va răci accentuat, astfel încât temperaturile maxime, mult mai scăzute decât normele perioadei, se vor încadra între -8...-9 grade în nordul Moldovei și 8...9 grade în sud-vest și pe litoral, iar cele minime vor fi cuprinse între -10 și 2 grade, mai scăzute, spre -12...-14 grade, în depresiunile Carpaților Orientali. Cerul va fi mai mult noros și, îndeosebi în cursul zilei, vor fi precipitații în estul și sudul țării, local în centru și nord-vest și izolat în rest. În Moldova și în zona Carpaților Orientali vor predomina ninsorile și se va depune strat consistent de zăpadă. În Transilvania și Maramureș vor fi precipitații slabe mixte, în Muntenia la început va ploua, apoi precipitațiile vor fi și sub formă de lapoviță și ninsoare. În Oltenia și Dobrogea ziua vor predomina ploile. Vor fi condiții de polei. În sud-estul teritoriului, cantitățile de apă vor depăși local 20...25 l/mp și izolat 40 l/mp. Noaptea aria precipitațiilor, predominant ninsori, se va restrânge către regiunile estice, iar în rest acestea se vor mai semnala doar izolat. Vântul va avea intensificări în majoritatea regiunilor, mai susținute în est și în sud-est, cu viteze de 55...65 km/h, precum și la munte, unde rafalele vor depăși 70 km/h, temporar viscolind ninsoarea.
Prognoza pentru București
Vremea se va răci accentuat, astfel încât temperatura maximă va fi de 2...4 grade, iar cea minimă se va situa în jurul valorii de -5 grade. Cerul va fi noros și vor fi precipitații, moderate cantitativ, la început sub formă de ploaie, apoi și lapoviță sau ninsoare, favorizând trecător producerea poleiului. Vântul va avea intensificări îndeosebi în cursul zilei, cu viteze în general de 55 km/h.


Curs valabil din data de 16 martie 2018
1 Dolar australian...
1 Leva bulgărească...
1 Dolar canadian....
1 Franc elvețian...
1 Coroană cehă...
1 Coroană daneză...
1 Liră egipteană...
1 Euro...
1 Liră sterlină...
100 Forinți maghiari...
100 Yeni japonezi...
1 Leu moldovenesc...
1 Coroană norvegiană...
1 Zlot polonez...
1 Rublă rusească...
1 Coroană suedeză...
1 Liră turcească...
1 Dolar S.U.A...
1 Rand sud-african...
1 Real brazilian...
1 Renminbi chinezesc...
1 Rupie indiană...
100 Woni sud-coreeni...
1 Peso mexican...
1 Dolar neo-zeelandez...
1 Dinar sărbesc...
1 Hryvna ucraineană...
1 Dirham emirate arabe...
1 Kuna croată...
1 Bahtul thailandez...
1 Gram aur...
1 DST...
AUD
BGN
CAD
CHF
CZK
DKK
EGP
EUR
GBP
HUF
JPY
MDL
NOK
PLN
RUB
SEK
TRY
USD
ZAR
BRL
CNY
INR
KRW
MXN
NZD
RSD
UAH
AED
HRK
THB
XAU
XDR
2.9445
2.3850
2.8943
3.9860
0.1835
0.6263
0.2148
4.6646
5.2815
1.4996
3.5796
0.2284
0.4907
1.1066
0.0657
0.4622
0.9670
3.7833
0.3162
1.1515
0.5981
0.0582
0.3545
0.2021
2.7418
0.0394
0.1437
1.0300
0.6274
0.1214
160.6617
5.4961
..Lei
..Lei
..Lei
..Lei
..Lei
..Lei
..Lei
..Lei
..Lei
..Lei
..Lei
..Lei
..Lei
..Lei
..Lei
..Lei
..Lei
..Lei
..Lei
..Lei
..Lei
..Lei
..Lei
..Lei
..Lei
..Lei
..Lei
..Lei
..Lei
..Lei
..Lei
click aici pentru cursurile pieței valutare - istoric