SAI CERTINVEST AND SIF TRANSILVANIA TAKE CONTROL OF AXA LIFE INSURANCE

BURSA 19.12.2014

A.A. (translated by Cosmin Ghidoveanu)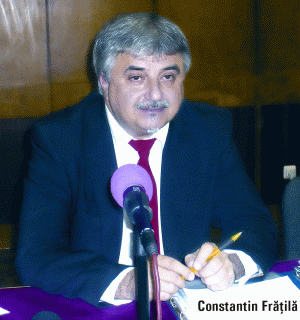 * Constantin Frățilă: "The transaction is inopportune and illegal"
* Last year, AXA Life Insurance România posted losses of 45.99 million lei
On December 18th, 2014, SAI Certinvest and SIF3 Transilvania announced that they have signed an agreement by which they acquired from the Axa Group its life insurance and savings operations in Romania.
In line with the terms of the agreement, SAI Certinvest will acquire a stake of 70% in the Romanian branch of AXA, AXA Life Insurance SA, while SIF Transilvania will acquire 30%, according to a press release.
The companies said that the terms and conditions of the transaction will not be made public.
Considering that SIF Transilvania is listed on the stock exchange, the acquisition of 30% of AXA Life Insurance does not require it to file a mandatory report with the BSE.
According to regulations in effect, issuers need to report any concluded contracts which exceed 10% of the net turnover of the last annual financial statement, or the contracts concluded outside the company's day-to-day line of business.
According to the bylaws of SIF Transilvania, the Directorate must request the approval of the Supervisory Board for transactions that exceed 5 million Euros.
Last year, AXA Life Insurance România posted losses of 45.99 million lei for the fourth year in a row, up 4.9% over 2012.
Constantin Frățilă, one of the largest shareholders of SIF Transilvania, who holds a 5% stake in the company, said: "I have filed a complaint with the Financial Oversight Authority concerning the transaction that SIF Transilvania is going to make alongside Certinvest, because I consider it inopportune and illegal".
Constantin Frățilă won in court, the annulment of the decision of the shareholders of SIF Transilvania made in August, by which he had been dismissed from the SIF3 Board of Directors, but the company announced it would appeal the ruling.
On the other hand, the representatives of the new shareholders of AXA Life Insurance are hoping the investment will be fruitful.
Eugen Voicu, Founding Shareholder of SAI Certinvest, said: "Life and Health insurance creates a powerful synergy with the current activity of Certinvest, in terms of the product portfolio, as well as of the clients' interests. The new shareholders will increase the company's volume of activity and will launch new products, aimed predominantly at entrepreneurs".
Radu Toia, executive vice-president of SIF Transilvania, said: "Through this purchase, SIF Transilvania is diversifying its holdings with a company in a line of business that is not present in the company's portfolio, and affirms its strategic interest in non-banking financial services, a segment where we estimate that the potential for growth is substantial in the medium and long term".
The transaction is subject to the usual requirements for being completed, including obtaining the necessary approvals from the regulators, according to the quoted press release.
AXA recently announced that it has terminated the contract for the sale of its insurance operations - AXA Life Insurance România to Astra Asigurări, and the French group is going to evaluate the strategic options concerning its Romanian operations, the Romanian AXA subsidiary announced.
The failure of the deal came as, three months after the agreement was announced, the Financial Oversight Authority (ASF) instituted the special receivership at Astra Asigurări in order to ensure its financial turnaround, dismissed the company's managers, suspended the shareholders' voting rights and appointed KPMG Advisory as receiver.
SAI Certinvest has more than 250 million lei in assets under management. The company manages a diversified portfolio of mutual funds (stock funds, index funds, fixed income funds, diversified funds), as well as an important number of individual portfolios, as it is a leader on that segment. SIF Transilvania manages assets of approximately 250 million Euros.
French group AXA entered the Romanian market in 2010, when it acquired Omniasig Asigurări de Viață from Austrian group Vienna Insurance Group (VIG).
Prior to that acquisition, Omniasig Asigurări de Viață had reported losses of 24.5 million lei between 2008-2009, according to data provided by the regulators.
In the first nine months of 2013, revenues of AXA Life Insurance from subscribed premiums reached 23.3 million lei, compared to 20.6 million lei one year ago.
[ print ]

Aceeasi sectiune (English Section)















Actualitate - vezi toate știrile mai jos.
bursa.ro in other languages
Prognoza Meteo
20.08.2017
Prognoza pentru România
Vremea va fi călduroasă în cea mai mare parte a țării, caniculară după-amiaza pe arii relativ extinse în Oltenia, Muntenia și local în Moldova și Transilvania, unde și disconfortul termic va fi ridicat, indicele temperatură umezeală (ITU), urmând să atingă și să depășească ușor pragul critic de 80 de unități. Cerul va fi variabil, dar în regiunile vestice, nord-vestice și pe arii restrânse în cele centrale instabilitatea atmosferică se va accentua treptat și mai ales în a doua parte a intervalului se va manifesta prinînnorări temporar accentuate, averse care vor avea și caracter torențial, frecvente descărcări electrice, intensificări ale vântului ce vor lua și aspect de vijelie și căderi de grindină. Cantitățile de apă vor depăși izolat 20...25 l/mp. Temperaturile maxime se vor încadra între 28 și 36 de grade, cu cele mai scăzute valori pe litoral și în extremitatea de vest a țării, iar cele minime vor fi cuprinse între 13 și 23 de grade, mai scăzute în depresiuni spre 8...9 grade.
Prognoza pentru București
Vremea va fi călduroasă, chiar caniculară după-amiază. Temperatura maximă se va situa în jurul valorii de 35 de grade, iar cea minimă va fi de 17...18 grade, ușor mai scăzută în zona preorășenească. Cerul va fi variabil, mai mult senin în prima parte a zilei, iar vântul va sufla slab și moderat.

Curs valabil din data de
1 Dolar australian...
1 Leva bulgărească...
1 Dolar canadian....
1 Franc elvețian...
1 Coroană cehă...
1 Coroană daneză...
1 Liră egipteană...
1 Euro...
1 Liră sterlină...
100 Forinți maghiari...
100 Yeni japonezi...
1 Leu moldovenesc...
1 Coroană norvegiană...
1 Zlot polonez...
1 Rublă rusească...
1 Coroană suedeză...
1 Liră turcească...
1 Dolar S.U.A...
1 Rand sud-african...
1 Real brazilian...
1 Renminbi chinezesc...
1 Rupie indiană...
100 Woni sud-coreeni...
1 Peso mexican...
1 Dolar neo-zeelandez...
1 Dinar sărbesc...
1 Hryvna ucraineană...
1 Dirham emirate arabe...
1 Kuna croată...
1 Bahtul thailandez...
1 Gram aur...
1 DST...
AUD
BGN
CAD
CHF
CZK
DKK
EGP
EUR
GBP
HUF
JPY
MDL
NOK
PLN
RUB
SEK
TRL
USD
ZAR
BRL
CNY
INR
KRW
MXN
NZD
RSD
UAH
AED
HRK
THB
XAU
XDR
3,0951
2,3460
3,0880
4,0606
0,1758
0,6170
0,2198
4,5883
5,0360
1,5110
3,5800
0,2198
0,4918
1,0728
0,0657
0,4805
1,1069
3,9066
0,2946
1,2305
0,5855
0,0609
0,3423
0,2184
2,8612
0,0385
0,1531
1,0636
0,6199
0,1176
162,7078
5,5046
..Lei
..Lei
..Lei
..Lei
..Lei
..Lei
..Lei
..Lei
..Lei
..Lei
..Lei
..Lei
..Lei
..Lei
..Lei
..Lei
..Lei
..Lei
..Lei
..Lei
..Lei
..Lei
..Lei
..Lei
..Lei
..Lei
..Lei
..Lei
..Lei
..Lei
..Lei
click aici pentru cursurile pieței valutare - istoric