THE "EUROPEAN FUNDS" CONFERENCE - 6TH EDITION / CARMEN ARHIP, BRD:

BURSA 18.06.2014

A.V. (Translated by Cosmin Ghidoveanu)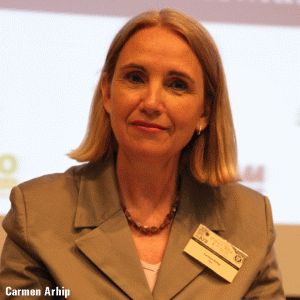 BRD has made it its goal to continue its support for increasing the degree of absorption of European funds, which represent an important method for financing investments, Mrs. Carmen Arhip, head of the department of European Fund of BRD said yesterday.
Carmen Arhip reminded that in the 2207-2013 programming period, BRD conducted the EUROBRD program, dedicated to supporting the projects financed using European funds, and its beneficiaries included SMEs, farmers, fish-farmers, local public authorities, major corporate clients.
"Demand for loans from SMEs is not as high as people think", Mrs. Arhip warned. "Things are hard for companies, that don't dare make investments, as well as for banks, because of non-performing loans caused by the crisis".
Mrs. did however, discuss the benefits of implementing projects using European financing: the optimization of the manufacturing cost / sale price ratio; increasing the production capability, and the possibility to increase market share, respectively; improving the qualitative parameters of the products; eliminating environmental deficiencies; the possibility to develop some innovation activities (the creation of new products); branding.
The BRD representative also said that for the 2014-2020 programming period, the possible roles which the banking system might play in supporting the attracting of European funds are: the pre- and co-financing of projects; the validation/confirmation of the bankability of projects; the management of the revolving grant scheme; the financial intermediation for financial instruments, intermediation in certain areas, and acting as a payment agency.
[ print ]

Aceeasi sectiune (English Section)















bursa.ro in other languages
Prognoza Meteo
21.03.2018
Prognoza pentru România

Vremea se va menține deosebit de rece. Cerul, mai mult noros ziua, se va degaja treptat noaptea în jumătatea de nord a țării. Vor fi precipitații, mai ales în prima parte a intervalului, predominant sub formă de ninsoare în Banat, Transilvania, cea mai mare parte a Moldovei, local în Crișana și izolat în Maramureș și mixte în Oltenia, Muntenia și Dobrogea, unde pe spații mici se va forma polei. În jumătatea de sud a teritoriului, izolat, cantitățile de apă vor depăși 10...15 l/mp. Vântul va sufla slab și moderat, cu unele intensificări în nord-vestul țării și pe arii restrânse în celelalte regiuni. Temperaturile maxime vor fi cuprinse între -2 și 4 grade, mai ridicate pe litoral până spre 6 grade, iar cele minime se vor situa, în general, între -11 și -1 grad, cu cele mai scăzute valori în Maramureș. Izolat, dimineața și noaptea, va fi ceață.
Prognoza pentru București

Vremea se va menține deosebit de rece. Cerul va fi mai mult noros și mai ales după-amiaza și seara temporar vor fi precipitații sub formă de ploaie, lapoviță și ninsoare și condiții de polei. Vântul va sufla în general moderat. Temperatura maximă se va situa în jurul valorii de 1 grad, iar cea minimă va fi de -3...-2 grade.
Curs valabil din data de 20 martie 2018
1 Dolar australian...
1 Leva bulgărească...
1 Dolar canadian....
1 Franc elvețian...
1 Coroană cehă...
1 Coroană daneză...
1 Liră egipteană...
1 Euro...
1 Liră sterlină...
100 Forinți maghiari...
100 Yeni japonezi...
1 Leu moldovenesc...
1 Coroană norvegiană...
1 Zlot polonez...
1 Rublă rusească...
1 Coroană suedeză...
1 Liră turcească...
1 Dolar S.U.A...
1 Rand sud-african...
1 Real brazilian...
1 Renminbi chinezesc...
1 Rupie indiană...
100 Woni sud-coreeni...
1 Peso mexican...
1 Dolar neo-zeelandez...
1 Dinar sărbesc...
1 Hryvna ucraineană...
1 Dirham emirate arabe...
1 Kuna croată...
1 Bahtul thailandez...
1 Gram aur...
1 DST...
AUD
BGN
CAD
CHF
CZK
DKK
EGP
EUR
GBP
HUF
JPY
MDL
NOK
PLN
RUB
SEK
TRY
USD
ZAR
BRL
CNY
INR
KRW
MXN
NZD
RSD
UAH
AED
HRK
THB
XAU
XDR
2.9210
2.3854
2.8995
3.9781
0.1834
0.6264
0.2152
4.6655
5.3165
1.4988
3.5608
0.2303
0.4911
1.1029
0.0655
0.4629
0.9597
3.7891
0.3154
1.1532
0.5987
0.0581
0.3541
0.2020
2.7350
0.0394
0.1435
1.0316
0.6270
0.1215
159.9577
5.5012
..Lei
..Lei
..Lei
..Lei
..Lei
..Lei
..Lei
..Lei
..Lei
..Lei
..Lei
..Lei
..Lei
..Lei
..Lei
..Lei
..Lei
..Lei
..Lei
..Lei
..Lei
..Lei
..Lei
..Lei
..Lei
..Lei
..Lei
..Lei
..Lei
..Lei
..Lei
click aici pentru cursurile pieței valutare - istoric