THE "STRATEGIES FOR THE DEVELOPMENT OF SMES" CONFERENCE / DANIELA MARIN, THE EUROPEAN BANK FOR RECONSTRUCTION AND DEVELOPMENT:

BURSA 30.11.2014

PETRE BARAC (translated by Cosmin Ghidoveanu)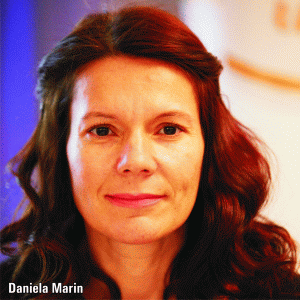 The European Bank for Reconstruction and Development (EBRD) will offer grants to approximately 60-70 SMEs in Romania, for a median co-financing amount of approximately 7,000 Euros, through Small Business Support, Daniela Marin, the head of the program of the EBRD told us. She said that the institution she represents has opened financing lines with approximately 13 banks on the domestic market. Daniela Marin also told us that EximBank is not among those banking entities, because it has financing instruments that are similar to those offered by the EBRD.
The European Bank For Reconstruction and Development offers grants of up to 10,000 Euros for SMEs, through SBS, according to the quoted source.
The EBRD official also said that the SBS supports the development of SMEs through business consulting services: "This program offers grants which represent 25%-75% of the total costs of the consulting projects for various sectors, and are limited to 10,000 Euros".
These funds are smaller for the Bucharest-Ilfov region, but bigger for the other areas of the country, and concern sectors such as energy efficiency, financial management and environmental protection, according to the quoted source.
Since 2006, SBS has financed over 500 projects in Romania, with a total value of more than 5 million Euros, of which the EBRD contributed 3 million Euros, Daniela Marin further said.
Most of the companies that benefited from these loans have fewer than 50 employees, and only 15% of them are located in Bucharest.
Mrs. Marin explained that SMEs that want to receive financing must have fewer than 250 employees and a maximum turnover of 50 million Euros, and their equity must be controlled by Romanian shareholders.
She also mentioned that SBS does not finance companies that operate in areas such as strong alcoholic drinks, tobacco, gambling or military equipment. Also, this program does not provide financing for banking services, for projects already under way or for companies that require radical restructuring.
Following the SBS projects in Romania, 72% of the beneficiary companies have seen a 26% increase in turnover on average, according to data presented by the EBRD official. Also, 12% of the SMEs have accessed foreign funding worth a total of 17.3 million Euros.
Furthermore, Daniela Marin said that 62% of companies that benefited from EBRD grants have seen an 8% increase in productivity, and 61% of them have increased their number of employees, as 264 new jobs were created.
[ print ]

Aceeasi sectiune (English Section)