BURSA 21.03.2014

ANCUȚA STANCIU (Translated by Cosmin Ghidoveanu)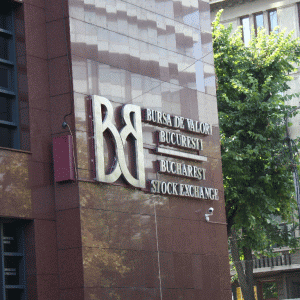 Granting awards seems to be one of the stock market skills that Ludwik Sobolewski has mastered the best.
From arguing with the head of privatizations in the energy sector, Gabriel Dumitrașcu, on the listing of the Romgaz GDRs on the London Stock Exchange, Sobolewski went straight to the enthusiasm of granting Dumitrașcu the "man of the year" award for 2013, without any intermediate stages (we are wondering why he didn't grant Goldman Sachs an award too, as the latter was content with being just a sponsor at the Gala where Dumitrașcu was granted the award).
2014 started off rather badly for the BSE, but the excuses were quick to appear - sometimes it was the foreign investors abandoning emerging markets due to the tapering of the Fed, sometimes it was the situation in Ukraine, sometimes it was the ASF raising the fees compared to last year.
We have to admit, all of those justifications are true.
Electrica is still in the portfolio of Mr. Dumitrașcu. If he likes getting awards, then he should privatize it in 2015, rather than this year, like the government has agreed with the IMF.
Because the award for 2014 will go to Mircea Ursache, the vice-president of the ASF who, in February, allowed the SIFs to acquire shares in each other. After that decision, the major deals involving SIF stocks took place, which increased the turnover of the BSE.
And the award is called "Man of the year", not "Men of the year".
Ursache's decision helps Ludwik Sobolewski meet the performance criteria, without his lifting a finger.
And just like that, we have a happy Pole at the helm of the BSE.
Who also received a performance bonus for his first four months of activity.
That's some skill, indeed!
Alin Barbu has got nothing on him!

P.S. To say nothing of the skills of Lucian Anghel...
Like master, like servant.
Well, in this case, we're talking about a Pole and his boss.


[ print ]

Aceeasi sectiune (English Section)















bursa.ro in other languages
Curs valabil din data de 24 mai 2018
1 Dolar australian...
1 Leva bulgărească...
1 Dolar canadian....
1 Franc elvețian...
1 Coroană cehă...
1 Coroană daneză...
1 Liră egipteană...
1 Euro...
1 Liră sterlină...
100 Forinți maghiari...
100 Yeni japonezi...
1 Leu moldovenesc...
1 Coroană norvegiană...
1 Zlot polonez...
1 Rublă rusească...
1 Coroană suedeză...
1 Liră turcească...
1 Dolar S.U.A...
1 Rand sud-african...
1 Real brazilian...
1 Renminbi chinezesc...
1 Rupie indiană...
100 Woni sud-coreeni...
1 Peso mexican...
1 Dolar neo-zeelandez...
1 Dinar sărbesc...
1 Hryvna ucraineană...
1 Dirham emirate arabe...
1 Kuna croată...
1 Bahtul thailandez...
1 Gram aur...
1 DST...
AUD
BGN
CAD
CHF
CZK
DKK
EGP
EUR
GBP
HUF
JPY
MDL
NOK
PLN
RUB
SEK
TRY
USD
ZAR
BRL
CNY
INR
KRW
MXN
NZD
RSD
UAH
AED
HRK
THB
XAU
XDR
2.9792
2.3644
3.0654
3.9779
0.1794
0.6208
0.2201
4.6243
5.2825
1.4513
3.5928
0.2352
0.4878
1.0772
0.0642
0.4512
0.8400
3.9431
0.3166
1.0870
0.6177
0.0577
0.3658
0.2008
2.7262
0.0391
0.1509
1.0735
0.6255
0.1231
164.3747
5.5953
..Lei
..Lei
..Lei
..Lei
..Lei
..Lei
..Lei
..Lei
..Lei
..Lei
..Lei
..Lei
..Lei
..Lei
..Lei
..Lei
..Lei
..Lei
..Lei
..Lei
..Lei
..Lei
..Lei
..Lei
..Lei
..Lei
..Lei
..Lei
..Lei
..Lei
..Lei
click aici pentru cursurile pieței valutare - istoric