PLANS FOR THE FUTURE

BURSA 07.01.2014

ADINA ARDELEANU (Translated by Cosmin Ghidoveanu)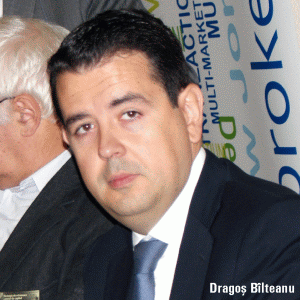 Dragoș Bâlteanu
* SIF Banat-Crișana has contributed 10 million Euros in the share capital increase of SIF Imobiliare
SIF1 Banat-Crișana has contributed 10 million Euros in the share capital increase of SIF Imobiliare PLC, a vehicle created for the management of some of the real estate assets of SIF1.
SIF Imobiliare (symbol:SIFI), which was listed on the alternative system of the Bucharest Stock Exchange, on December 23rd, 2013, has announced in a report, that it has received the full equivalent value of 500,000 shares subscribed by SIF Banat-Crișana in the increase of the company's share capital decided by the General Extraordinary Shareholder Meeting of SIF Imobiliare, of August 28th, 2013. The shares were issued with a par value of 1 Euro/share and an issue price of 20 Euros.
The representatives of SIF 1 told us that the plan is like SIF Imobiliare to raise additional capital on the stock market, after they will have shown results. They said: "The share capital increase, which was decided in August 2013 has now been completed.
Our plan is to grow the company and to show the performance obtained through the new method of management of the companies in the portfolio of SIF Imobiliare.
Once we do that, we plan to raise additional capital from the Bucharest Stock Exchange.
We want SIF Imobiliare to move to a higher tier of the BSE, within the briefest delays that are technically possible".
In the press release sent to the BSE, SIFI states that its current share capital is fully paid in.
SIF Imobiliare PLC will take all the necessary steps for the Central Depository to make available for trading the 500,000 shares which were fully paid-in, the report of December 27th, 2013 states.
Dragoș Bîlteanu, the president of SIF1 Banat - Crișana, was fined 10,000 lei by the Financial Oversight Authority (ASF), for not informing the public within the appropriate delays about the characteristics of SIF Imobiliare Ltd.
According to the representatives of SIF Banat - Crișana, the registration in Cyprus of the holding created for the real-estate stakes was done following the advice of a consultant from one of the "Big Four" consulting firms.
SIF Imobiliare was created in July, in Nicosia, under the name SIF Imobiliare Limited, and in September it was changed to a "Public Limited Company" (PLC), according to SIF1.
The initial share capital of the company was 1,000,000 Euros (subscribed and paid-in capital), divided into 1,000,000 ordinary shares. On August 28th, 2013, the shareholders have decided to increase the share capital by issuing 500,000 ordinary shares with a face value of 1 Euro/share (additional authorized capital).
SIF Banat-Crișana (SIF1) has created SIF Imobiliare, registered in Cyprus, to transfer stakes of 100.4 million lei, (22.5 million Euros) held in 18 companies with real estate activities. SIF Banat - Crișana currently holds 99.99% of the shares of SIFI.
[ print ]

Aceeasi sectiune (English Section)















bursa.ro in other languages
Curs valabil din data de 22 martie 2018
1 Dolar australian...
1 Leva bulgărească...
1 Dolar canadian....
1 Franc elvețian...
1 Coroană cehă...
1 Coroană daneză...
1 Liră egipteană...
1 Euro...
1 Liră sterlină...
100 Forinți maghiari...
100 Yeni japonezi...
1 Leu moldovenesc...
1 Coroană norvegiană...
1 Zlot polonez...
1 Rublă rusească...
1 Coroană suedeză...
1 Liră turcească...
1 Dolar S.U.A...
1 Rand sud-african...
1 Real brazilian...
1 Renminbi chinezesc...
1 Rupie indiană...
100 Woni sud-coreeni...
1 Peso mexican...
1 Dolar neo-zeelandez...
1 Dinar sărbesc...
1 Hryvna ucraineană...
1 Dirham emirate arabe...
1 Kuna croată...
1 Bahtul thailandez...
1 Gram aur...
1 DST...
AUD
BGN
CAD
CHF
CZK
DKK
EGP
EUR
GBP
HUF
JPY
MDL
NOK
PLN
RUB
SEK
TRY
USD
ZAR
BRL
CNY
INR
KRW
MXN
NZD
RSD
UAH
AED
HRK
THB
XAU
XDR
2.9265
2.3857
2.9422
4.0020
0.1838
0.6264
0.2153
4.6659
5.3603
1.4970
3.5883
0.2297
0.4901
1.1052
0.0665
0.4619
0.9661
3.7891
0.3204
1.1573
0.5983
0.0582
0.3514
0.2051
2.7438
0.0394
0.1440
1.0316
0.6269
0.1211
161.9868
5.5080
..Lei
..Lei
..Lei
..Lei
..Lei
..Lei
..Lei
..Lei
..Lei
..Lei
..Lei
..Lei
..Lei
..Lei
..Lei
..Lei
..Lei
..Lei
..Lei
..Lei
..Lei
..Lei
..Lei
..Lei
..Lei
..Lei
..Lei
..Lei
..Lei
..Lei
..Lei
click aici pentru cursurile pieței valutare - istoric